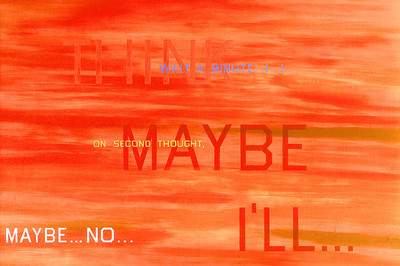 Ed Ruscha, "I Think I'll…," 1983, borrowed by the White House from the National Gallery, Washington
Of course I have more to say on the Obamas' art choices than made it onto New York Public Radio's just concluded Brian Lehrer radio segment. That's what blogs are for:
I'm impressed and a bit surprised (given Barack's barebones Senatorial office decor) that they have taken such a serious, intelligent approach to bringing the nation's art to the People's House, and they seem to be going about this in exactly the right way: They're consulting museum curators who are disinterested in terms of the marketplace, but highly knowledgeable in terms of what art and artists are worthy of White House exposure and consistent with the First Family's taste.
I particularly like that the Obamas are insisting that nothing be taken down off the lending museums' walls (as the recent Wall Street Journal article has stated): They're not depriving the museum-going public of something they would otherwise see at these institutions. Many museums own certain artists in depth, and can easily come up with worthy examples that have been in storage.
I'd like to see a relaxation of the general rule that an artist has to be dead and that a work has to be 25 years old before it can be accessioned into the White House's permanent collection. The art in the People's House should, at least in part, be reflective of who we are today. That said, the White House shouldn't be acquiring emerging artists; it should seek art around which some consensus and track record have developed.
There's nothing wrong, though, with temporarily borrowing and displaying works by less established, younger artists, who have attracted serious curatorial and critical attention. For museum advice on acquisitions, they should go beyond the Beltway and the mega-museums, seeking counsel from such places as the Studio Museum of Harlem and the Museo del Barrio, for more diverse perspectives.
As for the issue of art-market influence, I think that the Obamas do have to be careful about having the artworks sold off their walls, with prices enhanced by the White House imprimatur. For that reason, I think works taken on loan should be borrowed from museums, not from private collectors, dealers or even from artists.
Now that he's being so progressive about bringing art into the White House, I hope that President Obama will encourage the newly nominated chairman of the National Endowment for the Arts, Rocco Landesman, to push for a restoration of individual artists' fellowships—an important program that was a casualty of the 1990s Culture Wars.
It's time to put that period behind us, again encouraging artistic experimentation and creative ferment throughout the nation, not just on Pennsylvania Avenue. I'm encouraged by what Landesman has previously written (in a 2000 NY Times opinion piece) about the need for nonprofit theaters to be risk-taking and experimental, not commercially oriented. The job of the NEA should be to provide seed money and support for such creative experimentation.