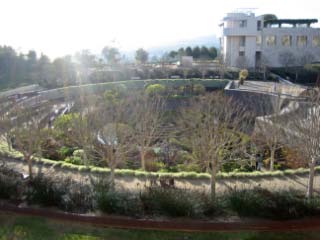 Robert Irwin's garden at the Getty Center last winter
The very real dangers of fire and earthquake have always made the Getty Center a risky venue for masterpieces.
This morning, for the first time that I can remember, the threat, temporarily, became frighteningly real: Andrew Blankstein, Ari Bloomekatz and Jia-Rui Chong of the LA Times report:
Firefighters have extinguished a 100-acre fire that ignited early this morning in the Sepulveda Pass near the Getty Center, prompting the temporary closure of the 405 Freeway. It took more than 400 firefighters seven hours and 45 minutes to extinguish all visible flames, and there were no injuries or structures burned, said Brian Humphrey, a spokesman for the Los Angeles Fire Department….

Firefighters put up defense lines around the Getty Center….The fire was about two miles from the Getty Center.
LA Fire Department Acting Chief Donald Frazeur told the LA Times that blowing embers could still reignite a fire.
And this just in from the Getty's press office:
The Getty Center has experienced no damage to grounds, buildings, or the collection due to the brush fire that broke out a few miles away early this morning and has now been contained. We extend our heartfelt appreciation to the crew of Battalion 5 (Getty Center Building Protection Group) who were on site at the Getty Center immediately after the fire began, and to the LA City and County firefighters who fought the fire.

The Getty Center will remain closed today to visitors and most staff to ease traffic congestion in the area, but will reopen tomorrow at 10 a.m. for business as usual.
The Associated Press photo of the raging flames is horrific. We can only hope that the Getty's brush-nibbling goats did a good job.