Here are my comments that were aired early this morning on New York Public Radio, which has more on its website, including a slideshow of objects. Click the arrow on the left. below, to listen now:
There's one small way in which I wish I could fix what I said: In describing Michael Rakowitz's
piece, "The Invisible Enemy
Should Not Exist (Recovered, Missing, Stolen Series)," which I found particularly engrossing, I mentioned
both the Middle Eastern food labels that were incorporated into the
objects that are part of the ensemble, and the OBJECT labels
that provide information about the ancient artifacts that are recreated
(in shape) by each sculpture. I failed to use the word "object" for the
second type of label, causing confusion to listeners (and maybe now to readers!).
In any event, here's one item from Rakowitz's array of recreated antiquities: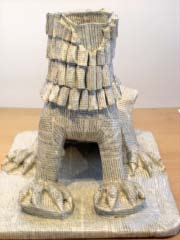 And here's the object label that goes along with it, giving the accession number of the similarly shaped object that was caught up in the looting at the National Museum of Iraq, as well as more information about that ancient piece, its current status ("in museum, head destroyed during museum looting") and a quote from former Defense Secretary
Donald Rumsfeld
(ending with his famous "stuff happens" remark):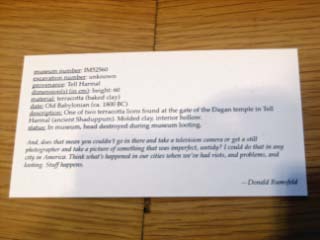 On the wall behind the table displaying the objects are informational cards describing the National Museum, the looting and the aftermath. Here's one: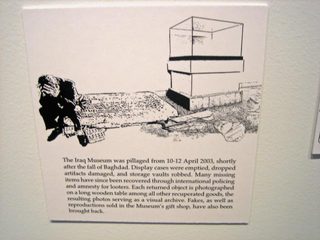 Moving from the temporary exhibition to the permanent collection gallery, here's
Lucy Rie
's "Flared Bowl," 1975, which I praised to WNYC listeners: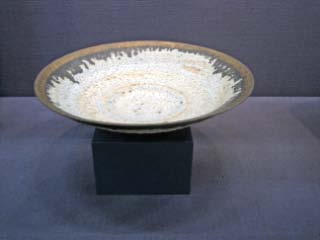 There's an interesting disconnect between the more traditional permanent collection objects (like Rie's bowl), wherein materials are harmoniously married to meticulously crafted objects and their functions (if any), and the edgy, recently created pieces in the temporary exhibition (like Rakowitz's), which were fashioned from industrially created found objects. In the "Second Lives: Remixing the Ordinary," there is dissonance, rather than harmony, between the finished products and the materials going into them—chandeliers made from twisted magazine pages or hypodermic needles, seating made from high-heeled shoes or quarters, murals made from hair combs or spools of thread.
Speaking of that temporary exhibition title: I think it's time to retire the word "remix," over-used by institutions trying to seem clever and trendy.
COMING SOON: I'll be posting more of my photos and impressions of MAD. That means you may have to endure yet another CultureGrrl irreverent photo essay.