Length in music, along with time itself, stretches and compresses like an accordion, with only vague guidelines for overloading or underwhelming listeners, for leaving them hypnotized or fast asleep – especially as pieces get longer and longer. It's a badge of honor – at least in my circles – to say that you've sat through Morton Feldman's five-hour String Quartet No. 2, and done so happily, a number of times, without a bathroom break. Human frailty, however, kept me from reaching the end of a five-hour realization of Julius Eastman's Buddha by the modern-music group Wild Up April 22nd at the 92nd Street Y, New York and Michael Hersch's One Day May Become Menace which spread over seven hours May 13 at National Sawdust. On some days, one can take only so much 'heavenly length'.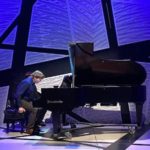 Jacob Rhodebeck plays One Day May Become Menace at National Sawdust
How long is too long? It changes according to time, place, musical density and audience expectations. Neither Eastman nor Hersch try to stop time with eventless, trance-inducing works like Feldman's; both pieces are packed with incident. In contrast, John Cage's ORGAN2/ASLSP – As SLow aS Possible, has so little content that its conceptual significance is far more important than the actual sound: Each note is being held for years at a time in a church in Halberstadt Germany where the piece is projected to go on for 600-plus years. Is anybody going to listen at length to a single note played with the organ pedal that's held down by sandbags?
The values is in knowing that it's there – as sort of an art installation. Expectations of in-person audience engagement are minimal. But there are various degrees. Handel operas can be as long as Wagner's, though in Handel's time, audiences came, went, socialized and were taken in by the opera when the star singer was holding forth with a thrillingly ornamented aria. Wagner expected undivided attention and built a theater (Bayreuth) that encouraged it. Outside Bayreuth, during the Metropolitan Opera's all-star performances in the 1930s and 40s, Wagner was cut, no doubt for reasons of stamina on the part of performers or listeners. But cuts are often referred to as disfiguring because the long-term architecture is violated. On a linear level, tonal planning acts like a subliminal carrot on a stick: Your ear feels the distance to the home key, which keeps moving you forward. That's why Handel operas seem to get longer the more they're cut.
Of course, tonal planning is useless without strong content. That's why the late-Strauss opera Die schweigsame Frau is so frustrating: The slender opera buffa plot is characterized with a gargantuan score from a composer so besotted with the words of his librettist Stefan Zweig that he just didn't want to end any given scene – whether or not he had the necessary interest-sustaining ideas. Looking at Eastman's Buddha score – an egg-shaped thing with both notes and words – there's nothing that prompts five hours- at least for me. But unlike Erik Satie's Vexations (a wisp of music that's simply repeated 840 times), Eastman employed elements of Cage. It's called open scoring with open-ended directives. Wild Up ran with it – in a contemplative way – the mechanics of which are best known to the musicians who had mapped out a loose score. There were specific cues for solos that can be said to be improvised for lack of a better word but drew their sense of uniformity from some agreed-upon group purpose. As I noted in my MusicalAmerica.com review, Eastman may not have had much direct influence on what was heard, though without him, the music would not exist. And if realizations of Eastman pieces are far more varied than the more open-ended Cage, it's because Eastman (1940-1990) didn't live long enough to supervise the evolution of a performance practice.
Everything in Buddha was absolutely worth hearing, but after a sublime late-in-the-evening solo played by saxophonist Shelley Washington – very personal and also celestial – 'worth hearing' wasn't enough when going into hour five and on a dark and stormy night when the iffy New York City subway imperiled one's trip home.
A planned but cancelled live stream of the event might've been a practical solution to the length issue. That way you can listen while not being constrained by seats. But the less-tangible charms of this somewhat-fragile Buddha realization – charms that one can't always identify at the time – may have been compromised between the live performance and one's computer screen. Also, artistic imperative aside, the most perilous part of a long piece, from the audience standpoint, is the concluding portion. Where's the finish line? If I can't see it I might not stay for it. And in Hersch's case, the finish line kept moving and receding further into the distance.
His three cycles for solo piano and chamber-music duo – collectively titled Sew Me into a Shroud of Leaves – were performed in the previously announced time span of 9 am – 10:30 pm, myself opting to arrive at 4:30 pm for part three, One Day May Become Menace, (the section I hadn't previously heard). Musicians employed for the day were pianist Jason Harding (The Vanishing Pavilions, Part One), cellist Mariel Roberts and hornist Jamie Hersch (the composer's brother, both in Last Autumn, Part Two), and the truly remarkable Jacob Rhodebeck (One Day May Become Menace). Presenting them all together is quixotic – on paper. But all-day Beethoven piano sonata marathons inspire marvel rather than skepticism. And Hersch's work, for all of its interruptive temperament, has a stronger sense of cohesion than Beethoven's 32.
The music's distant template are Olivier Messiaen's great piano cycles such as Vingt Regards sur L'Enfant Jesus, though with a structural form of its own: The 62 sections – seemingly through-composed piano works that run the gamut from contemplative to explosive – are dotted with intermezzi that are a bit like Messiaen in chattering bird mode, though a bit more aggressive. Other movements announce themselves as "hymn" or "fugue" but, more frequently, with poetic fragments by Marius Kociejowski such as "the monk's graves anonymous beneath lemon trees." Such subtitles show the composer's initial point of reference but aren't literal. Maybe they aren't that important: Though printed in the program, surtitles would've been a great tour guide in the hall's low lighting levels, especially since one couldn't always tell where one movement ended and another began.
My connection to Hersch's music has rarely been literary. It's visceral – more than, say, the ultra-oblique Galina Ustvolskaya or the ever-despairing Bernd Alois Zimmerman. I connect with Hersch's stabbing chords; they feel like lethal weapons. Other gestures are spat out on a disjointed landscape. When he writes a fugue – perhaps the ultimate symbol of musical order – it's not immediately recognizable because it's in such disorder. Often, a section of Menace ends with a rogue note that seems to say, "At second thought…." George Crumb's haunted landscapes are recalled, though Hersch's use of extended techniques is minimal. Whether or not Hersch tries to meet my ears halfway, he does. Somehow.
Particularly exhilarating we're passages close to the end that employed such rich, full-bodied chords that Hersch joined hands with the kind of romantic gestures he had bypassed for so long. Is this is what Rachmaninoff's nervous breakdown was really like? Yes, Hersch is a great composer and this was one of the passages that told you why. What followed was bound to be anti-climactic, and it was in the worst way. Spare, ruminative writing that seemed to be extended for reasons of architectural artistic imperative lost its eloquence and was a reminder that drawing out a denouement is fatal. There were some out-of-left-field outbursts. After a few of those, I left. I needed to eat and was feeling so lost in Hersch's bleak world that home seemed like the only place to be. Also, the performance had already run 40 minutes past its stated running time.
Hersch himself seemed almost apologetic during the last intermission, which he cut short by 10 minutes. He's a fairly low-key guy. He had read the room, which had 12 people at that point. But what was he to do? Cut the piece om the spot to fit the stated running time? Art is often untidy and not easily contained. But listeners hit overloaded. Length started to feel like an imposition. But let's look at the positive side: I'm grateful my brain held out from 4:30 to 11:20 p.m. Will such a large piece make its mark in our current, high-velocity world? The density of content in Hersch is comparable to the symphonies of Roger Sessions, which may be the greatest ones that America has produced but are now forgotten. Then again, authoritative recordings of Hersch's work exist. So what looked quixotic – and several acknowledged masterpieces by Feldman certainly were regarded that way not so long ago – may be considered a historic event in decades to come.