The July 4th weekend came with an obviously heightened sense of independence from the COVID-era restrictions. With it came my first entry into a concert that could've happened before March 2020: Bargemusic at Brooklyn's Fulton Ferry Landing hosted a July 3rd recital by the bold, provocative pianist Beth Levin playing selections from Brahms's Op. 119, Schumann's Symphonic Etudes, Mozart's Fantasie in D minor K. 397, and a new work by Jonathan Dawe titled The Emperor's Canon. If the venue seemed a tad musty in recent years, it certainly isn't now — with the eternal charm of seeing the Manhattan skyline through the window, sometimes slanted a bit when the wakes come in from arriving and departing ferries.
'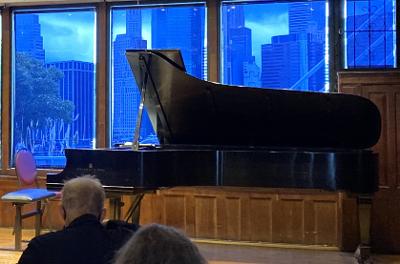 The very idea of this concert was a wistfully-regarded dream only a month ago. At the few concerts that have been happening, often in outdoor venues, the gauntlet of safety rules was intimidating (and frustrating, as with the electronic COVID waivers that sometimes worked and sometimes did not). It's no surprise that the audience avalanche that was expected at some live concerts hasn't quite happened. I think that people are waiting for the real thing — which is what Bargemusic's Levin recital was. At the barge entrance, I stood in a short line, showed my vaccination card, gave my name inside, and there I was, in a genuine seat in a genuine concert hall. I kept my mask on until I realized that nobody else did, so I removed it, feeling somewhat wicked, but with no fingers wagged in my direction.
Levin has a cult-and-then-some following. For years, I've struggled to frame her artistic imprint. She truly challenges what you think you know about a composer and the repertoire she's playing. Mozart tends to announce where he's at, emotionally speaking, early in his pieces, but Levin defied that with a performance that was even more mercurial than what's customary with this score. The opening flourish, in her hands, was a kaleidoscope of mixed emotions without getting in the way of the music's poised Classical exterior. Then, when the piece takes an animated major-key turn, the spirit of the earlier minor-key passages wasn't left behind. So Mozart emerged as a creature of Mahlerian ambivalence like most human beings, even though we often like to elevate our artistic gods and regard their works as objects identified by their primary emotion. In performances like this, no emotion is primary.
Brahms's late-period miniature works seem far more emotionally reserved than those written in late middle age, his earlier confessional element receding into technical procedures honed over his long compositional life and deployed as only a genius can. In the three Intermezzos (B minor, C minor, C major) and Rhapsodie in E-flat major, Levin took Brahms out of that closet . All of these pieces are short and thus seem to have the composer shutting the door before we can get a fix on him. But without in any way elongating the music, Levin had a way of breaking open these miniatures and finding shades of meaning and feeling that are usually implied rather than stated.
Schumann's Symphonic Etudes were the main event, and Levin sought out their specific qualities, taking cues from the title in ways that few pianists do. "Symphonic" implies something large in scope, though "Etudes" suggests short, self-contained, virtuosic works. Levin had it both ways: she didn't elide the sections as she might with Schumann's other piano suites, giving each etude its due, but the effect she went for was epic. Every phrase was a fearless search for essence, which gave a sense of the music being exploded from the inside out. What made the performance fearless was her willingness to give her sound an amplitude that was perhaps greater than the intimate venue could accommodate. She makes less-than-beautiful sounds — it's part of the hellbent-for-truth package — and with a technique that doesn't have much sense of power in reserve. But with Levin, nothing is in reserve. The performance never felt labored, though you felt the labor behind the performance.
What other pianist might this description apply to? The semi-legendary Russian Grigory Sokolov, who doesn't play in the U.S. and whose European performances are treated as sacred events. Unfortunately, his lack of technical reserves has been particularly obvious in recent broadcasts. Levin isn't suave by any means, but you can't say she's a note dropper; Sokolov is. Does anybody over there mind? There's a lesson in there about European musical values vs. American ones.
It's a luxury to be able to discuss a concert on this level, and without any handicaps. In Philadelphia, a full performance of Tosca at the semi-outdoor Mann Center was amended to an evening of excerpts bridged by narration. The Metropolitan Opera's short concert of arias at the spacious, airy Knockdown Center in Queens was heard through a cloud of white noise (thanks to the COVID-required air filtration system). As much as I loved Gil Shaham in the Beethoven Violin Concerto with The Knights at Green-Wood Cemetery on June 25, the outdoor performance was still being heard through a flawed sound system and in a reduced orchestration that used five (yes, five) players. Shaham played more heroically than usual (especially in cadenzas), but I look forward to a time when such heroism is not necessary, allowing performers and listeners to focus more clearly on what we're really there for. And I'm happy to see that the need to make such allowances looks to be ending soon.
Postscript: Apologies to composer Dawe, whose substantial new work on Levin's program I need to hear a few more times before I can say anything insightful about it.