Grand opera is somehow rising again — despite restrictions that limit its fundamental grandeur.
That impossibly expansive genre, so greatly missed since the lockdown, faces profound challenges that are being met by the most resourceful minds in the business, and in ways that remind us what we're still missing, while attempting to deliver the goods — with much more success than not.
The Metropolitan Opera is the greatest cause for concern, with its massive loss of money loss since the pandemic began and current negotiations with unions remaining tense. The great Met orchestra wasn't paid for more than a year (many members left town), and the powerful stagehands' union has been locked out for months. But there stood music director Yannick Nézet-Séguin in a Sunday night Concert for New York in the Knockdown Center in Queens (far, far away from Lincoln Center) conducting an orchestra and chorus fraction of the usual size but with handpicked soloists known to be among the best in the business.
The program of serious arias felt more reverential than celebratory. With everybody in the room at a safe distance, and an aggressive air-circulation system creating underlying white noise, the event felt like a dreamy operatic mirage. Everybody looked and sounded almost as we last remembered them — as if we'd never said goodbye (to quote Broadway's Sunset Boulevard).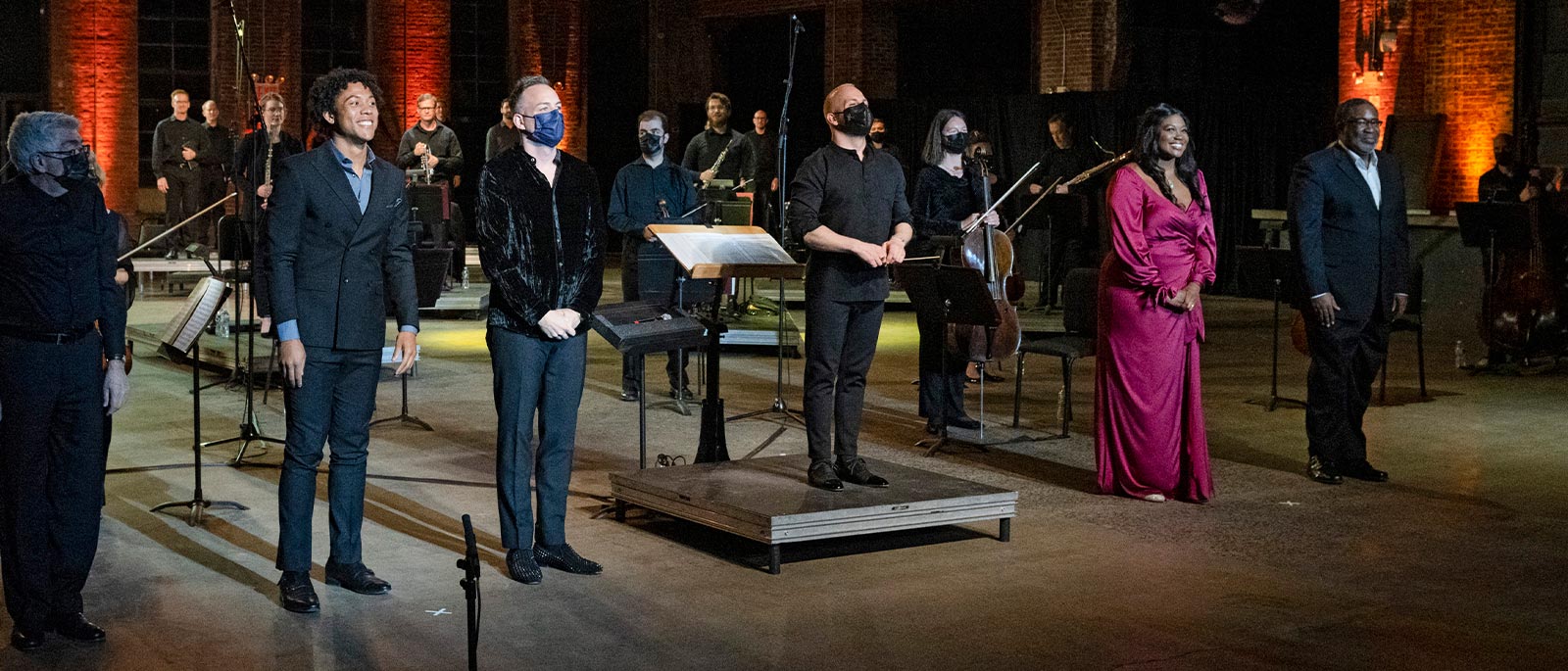 Getting to that point, however, entailed a gauntlet of health measures for the audience that needed to be run on one's smartphone — which worked just fine but can be truly intimidating to older operagoers who have experienced years of tech shaming.
Finding the Knockdown Center, an atmospheric venue that's loved by the electronic music community, required an epic series of subways, buses, taxis and car services. I nearly gave up when Google Maps (perhaps confused because the venue's address is alternately listed in East Williamsburg, Brooklyn and Maspeth, Queens) put me on the wrong bus and left me in a deserted no-man's land of graffiti-strewn warehouses. I wondered what the recently deceased operatic super-fan Lois Kirschenbaum, with her determination to gain access to the Metropolitan Opera in all forms, would've done in such circumstances. The answer came when I found that the Knockdown Center — a compound behind extensive chain-link fence — offered valet parking.
Automotive access could be the new dividing line for opera fans. Opera Philadelphia's concert performance of Tosca, titled The Drama of Tosca, had fans making their way to the semi-outdoor Mann Center for the Performing Arts, five miles out from Center City, on a cold, rainy May 5. Getting there was possible with street buses, but those going home by Lyft faced a long wait for pickup. The presentation had three top-notch singers — soprano Ana María Martínez, tenor Brian Jagde, and baritone Quinn Kelsey — under the combustible baton of Corrado Rovaris. But at least one rehearsal had to be cancelled due to cold temperatures. Subsidiary characters were replaced by a narration that was actually more of a overwritten, over-heated commentary on the power of Rome and the people in it — one that left historians crying foul and operatic newcomers asking, as they left the front gate, how exactly Tosca dies.
Meanwhile, a precursor of what might await fully-staged opera in the U.S. is the Opéra de Paris's fully-staged but audience-less Aïda in a Lotte de Beer production that opened in February. The Ethiopian princess of the title was represented not by a white soprano with dark makeup (completely impermissible now) but by a marionette whose facial expression attempted to address the character's chronic torment. It tested tenor Jonas Kaufmann's powers of imagination to sing the great aria "Celeste Aïda" to an inanimate object of affection. (In other scenes, Sondra Radvanovsky trailed behind the marionette, singing brilliantly). Still, it's worth seeing, despite a technological hoop to jump through: The production is available on demand through Aug. 20 on the Arte channel, though not (officially) to U.S. viewers, who will have to use a Europe-based Virtual Private Network (VPN).
For all of their shortcomings, these efforts were courageous, and perhaps essential, steps in the return of this most expensive and complicated artform. Rather than waiting for another month or two, counting on more permissive regulations, both the New York and Philadelphia companies decided to do it now, because — under limited circumstances — they could. If these companies can navigate so many regulations at all, never mind if they manage artistic success, then they can indeed reopen an opera season in a shape and form that we would all recognize. With luck, these events will be a catalyst to overcoming knots in the Met's labor negotiations and Opera Philadelphia's access to indoor performance space. (In fact, Opera Philadelphia announces its new season today, with Stravinsky's Oedipus Rex and George Walker's Lilacs January 21 and 23, 2022 at the Kimmel Center. and Rigoletto in April and May 2022 at the Academy of Music.)
The one factor that's common to New York, Philadelphia and Paris is an extremely high standard of musical performance. The Paris Aïda — with Radvanovsky, Kaufmann, Ksenia Dudnikova as Amneris, Dmitry Belosselskiy as Ramfis and Ludovic Tézier as Amonasro — was among the most thoroughly realized I've ever heard, partly thanks to conductor Michele Mariotti, who has evolved into one of the most interesting Verdi conductors out there. In the Philadelphia Tosca, Quinn Kelsey sang Scarpia with a precision of meaning unlike anything I've heard in years. Martínez's Tosca drew on a deep resource of mezzo-soprano-ish coloring with all of the range and agility required of this soprano role. At the Met performance, tenor Stephen Costello brought an almost spinto coloring to Tamino's music in The Magic Flute (his voice has truly grown during lockdown), while Eric Owens sang Sarastro's music from the same opera with a lieder singer's precision. Angel Blue's vibrato was getting a bit large pre-pandemic, but not now in her beyond-lovely rendition of the "Ave Maria" from Otello. Justin Austin sang an intense excerpt from the forthcoming Terence Blanchard opera Fire Shut Up in My Bones, leaving (for lack of dramatic context) a promising but inconclusive impression.
Opera could well return in a considerably improved state. Virtually ever singer I've heard has benefitted from vocal rest and perhaps a bit of retooling on the technical side. Emotional authenticity is likely to be a higher priority. On Sunday, Nézet-Séguin delivered a thoughtful spoken introduction to the Concert for New York — and cut it short when he began lapsing into the platitudes we've heard so often over the past year.
Improvising a presence in the public eye while unable to present regular performances, opera singers and producers have had many interesting collaborations that might not have happened otherwise. After all, even the biggest stars had unusual availability — as suggested by the forthcoming joint recital by early-music superstar Philippe Jaroussky and soprano Emőke Baráth at Paris's Théâtre des Champs-Élysées on June 5. Joyce DiDonato's Metropolitan Opera video recital last year in a German warehouse, at her artistically committed best with both an early-music group and a conventional orchestra, was an event with no artistic precedent that I know of, and one that I will always remember. Was it worth the price of the lockdown? Let's not go there but just be grateful that the recital happened.