David Hertzberg's opera The Wake World arrives on a new recording with a lot of praise already behind it. Though written in a matter of months by a composer who was then hardly known, the piece was a curious success at Opera Philadelphia's O17 festival and won the 2018 Best New Opera Award from the Music Critics Association of North America. But time and again while listening to the Tzadik-label release, I asked myself, What zeitgeist did this arrive from? What cultural phenomenon contributed to why it was written now? And why have audiences responded to it so readily?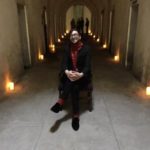 Here are the pieces that don't even begin to add up.
The story comes from the deeply enigmatic Aleister Crowley (1875-1947, author, occultist, spy and God only knows what else), whose sensibility might described as J.M. Barrie's Peter Pan on acid – lots and lots of acid, with creepy overtones as the child heroine Lola is led on a dream journey that strips her of everything, including flesh and bones. The musical language is post-Debussy, in the realm of late Szymanowski: shamelessly lush, opiated, over-ripe and gothic. Few scores, recent or not, are so sensually inviting yet ultimately so disturbing, as if you're experiencing something that has been secret (for good reason) and possibly forbidden.
I say this as someone who didn't get to see the O17 staging. As a purely audio experience, The Wake World holds up far better than the more lavishly acclaimed operas of George Benjamin and Thomas Adès, which demand to be seen before they can be properly heard. Though Hertzberg's music has too many obvious antecedents to be called innovative, his synthesis is so convincing that the music achieves its own originality.
"It's so over the top and lurid that it makes Salome read like something out of the telephone book," declared critic John Rockwell, who was part of the MCANA panel that named it opera of the year.
"It uses five instruments that sound like an orchestra of 40 not just in terms of volume but color and variety," said Heidi Waleson on the same panel.
So, with the close scrutiny allowed by the studio recording masterfully led by Elizabeth Braden, how are that color and variety achieved?
The Wake World's landscape arrives in seven sections that are variously titled Ritual Procession, Preludium, The Beginning, The Palace, Treasure House of Gold, Mistress of It All, and Out of Doors. The ultimate contradiction is stated close to the beginning: "The language of The Wake World is silence." (Oh, sure.) The main characters are the innocent young girl Lola (sung by Maeve Höglund) and her enigmatic Fairy Prince (Samantha Hankey), who was costumed, in the original R.B. Schlather production, in a natty business suit with a mid-century British smoking pipe. Amid this ostensibly benign dreaminess appear ultimate nightmares — including a giant being consumed by cannibals (Lola included) but still conscious enough to sing a lament about his predicament.
The Fairy Prince refers to Lola's "sweet supple flesh" and asks her to remove her clothes — and also her skin. "And when all these happy husks are shed, you will find yourself crouched beneath the canopy of light …" That, plus language that is extravagantly affectionate or mystical rather than blatantly sexual, keeps the opera out of the pedophile zone. A sense of ominous eternity often hangs in the air. When Lola is abandoned, she fears that she'll "lose myself in foreverness." A choral entity known as the "they" sing about romantic pledges "until the end of time and space … and you writhe underground … besidest the worms wherein all co-mingle."
The dramatic structure is a bit like Bartók's Bluebeard's Castle. Lola seems to go from one phantasmagorical realm to another, kind of by choice but propelled by the momentum of her dream. If it's possible to an opera to float decisively, this one does.
The remarkable sense of sonority isn't achieved entirely by the tiny orchestra. The 24-part mixed chorus plays a major role, though this isn't a choral opera in the Boris Godunov sense of the term: the voices are often used for textural purposes, more like Ravel in the full-ballet version of Daphnis et Chloé. The sonority's foundation is provided by the keyboard, the edge by the trumpet: sometimes muted, sometimes soaring above the rest, delivering the closest the opera comes to a traditional melody.
Not that the score is un-melodic. It seems too preoccupied with otherworldly matters to deal with anything so mundane as a tune. The vocal lines are parlando style — singable, sometimes challengingly so. This sort of vocal writing has a somewhat bad name in contemporary opera: pacing often gets weighed down in the name of conversational verisimilitude. Strangely, pacing is not an issue The Wake World. The opera seems to proceed with its own kind of amorphous confidence, suggesting that the major missing piece of the antecedent puzzle here is the time-suspended quality of Morton Feldman. One passage has a kind of ominous ding-dong tolling bell effect that suggests somebody is about to pay — but for what? Certainly, there's something sinful here. And when you think it can't go any further on any number of fronts, whether saturated sonorities or dramaturgical weirdness — it does. And does so again and again.
Musical shock arises from the unexpected. And now that I've failed to locate any zeitgeist for The Wake World, I can only conclude that its shock value comes from its lack of context. Nobody will ever be able to point to this score and say that this came out of the era of Donald Trump, the gritty horrors of the national opioid addiction, the flagrant disregard for the truth that has become so common, or the unchecked bigotry that has so far afflicted the 21st century. Yet The Wake World is not an escape from all of that. The opera is what it says it is: an alternate world that is like our unconscious mind, with all of its non-linear irrationality, yet only two closed eyelids away from reality.
After a piece so singularly entrancing as The Wake World, it's hard to know what to expect from Hertzberg in the coming years. Will he go further into the ozone or, like the filmmaker Alain Resnais, pull back from the tuxedoed surrealism of Last Year at Marienbad and into something more accessible but less distinguished? I can't call it either way. Which is what makes Hertzberg so intriguing.