The pleasure of engaging a old task comes from the tally-ho sense that a time-out will produce improvement. Surely a refreshed and renewed writer will find purpose, tone and image to clarify complexities into an amplitude. The chess master in Michael Chabon's The Yiddish Policemen's Union had no such hopes about his game. Returning to test yet another challenger, he said, "All the blunders are there on the board, waiting to be made."
Onward to blunders: In New York last month, I imagined time spread out before me like Wallace Shawn's dinner with Andre. Instead, thanks to an infection I insisted on ignoring (mind over bacterial matter), time contracted into fast food. As an adult, I have never been in New York for as long and seen less. A few things, however, stick with me.
Kara Walker at the Museum of Modern Art: Gone, An Historical Romance of a Civil War as it Occurred between the Dusky Things of One Young Negress and Her Heart 1994 (Images via)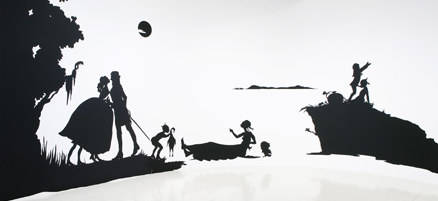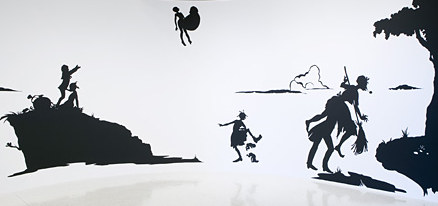 On a wide, white atrium wall, her cut-out silhouettes had the space and time they needed to make a world. It's a world inside the world, where, as Henry Miller once put it, "chaos is the score on which reality is written." After more than a decade of international prominence, she continues to weasel out with sinister exuberance the crazed core of her American experience.
Gone, An Historical Romance is a deliberate misreading of texts, chiefly Gone With The Wind. Her Surrealism comes to her as naturally as breathing. She reveals what is tricked-out about the movement, past and present. She does not have to struggle to inhabit a molten core. It's hers already.
They should have called it Beavers in the Sky. Busy, busy, busy. While it was fun to climb through bamboo 50 feet in the air to regard the Manhattan skyline, the payoff was what's there already.
Franz Kline
had it right. The wonder is the architecture in the surround. The Starns worked too hard for little result. Bring back the photos.
50 Years of Pace Gallery:
What can money, power and brains buy a gallery? Plenty. Three shows in four locations constituted a solid survey of the enterprise's best and brightest.
Also:
Joan Snyder at Betty Cunningham (luscious lips and leaky blooms); Robert Gober at Matthew Marks (feet clogging his drains); the sign on Jim Kempner's office door (Disturb!); Five Decades of Judy Pfaff at Ameringer McEnery Yohe (The Starns needed to see this show. Unlike them, she knows how to make an excess of material into an essential), and Bing Wright at Paula Cooper (a spare tribute to the alchemical magic of a dying, silver-based medium).