Chris Engman's photos are evidence of his interventions. Using the deserts of Eastern Washington as stage sets, he constructs material plays about his process. Six barrels become a triangle, the red always in the middle bottom and the other colors rotating. He shoots a photo, rearranges the barrels and shoots again. Time passes in the sky, which shades from blue to mottled dark to white.
VARIATIONS, 2010
Archival inkjet print
52 x 44 inches
Edition of 6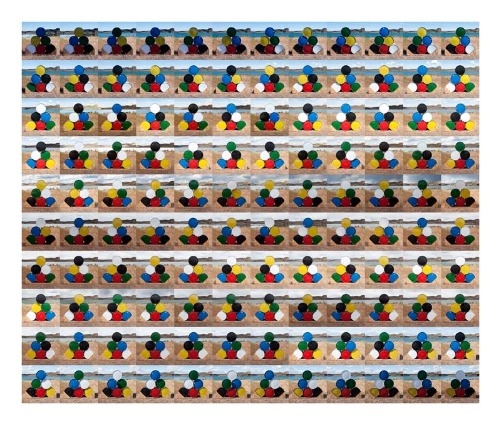 Titled Dust to Dust, the exhibit at Greg Kucera Gallery is overhung, which is a problem for an artist whose strategizing can devolve into the aridly clever. These photos need more space than they get. Like crabs in a barrel, however, the ones on top manage to hook a claw over the edge and climb out.
In Equivalence, a grid of empty frames becomes a rickety kind of Coptic cross. The top beam and arms are filled with photos of the sky, rephotographed. In the final print the sky is clear except for clouds in the cross. It's a trick, but I like that it's not a good trick. The structure is already falling apart, and the paper on which the clouds appear is visible on the left. His title is a nod to Alfred Stieglitz, whose series of the same name attempted to find in ordinary skies an alienating distance verging on abstraction.
EQUIVALENCE, 2009
Inkjet print
38 x 48 inches
Edition of 6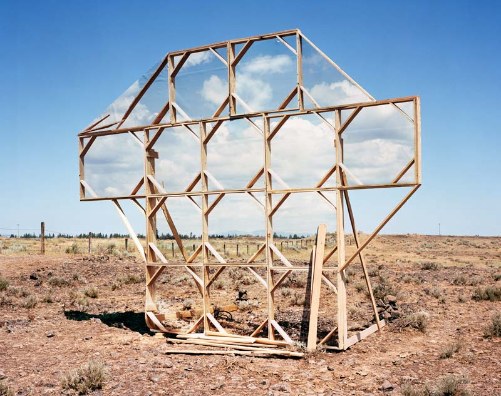 Abandoned Crates needs no back story. Into a verdant harmony, what is made by humans floats on a lake. The photo is an immaculate version of the messy masterpiece, Aguirre, the Wrath of God. (There's meat floating by…) Vanity, vanity; all is vanity.
ABANDONED CRATES, 2007
Archival inkjet print
40 x 49 inches
Edition of 6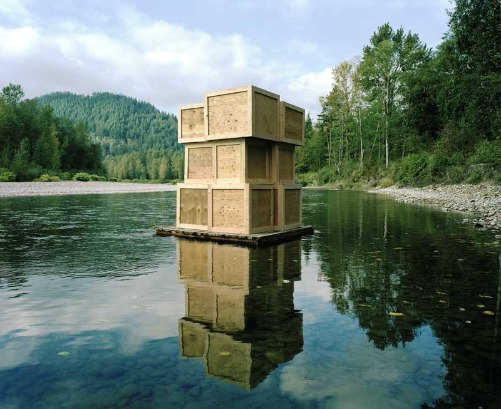 Through Dec. 24.