There are moments when the correct answer to the question – What are you thinking? – is nothing. You're listening to your stomach gurgle or staring at your shoes, your hands, your sleeping dog.
Public personalities are paid to snap, crackle and pop. Curated by Sara Krajewski, Harry Shearer's The Silent Echo Chamber at the Henry Gallery presents them as they wait for the go light and the text prompt. They sit in their seats with nothing to do and no one to share it with.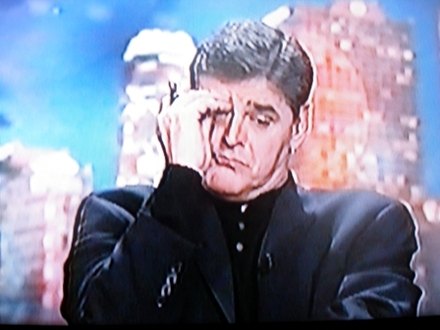 Surrounded by dead air, they slump and grow slack. I'd love to see Shearer's video series paired with Walker Evans' subway photos from the late 1930s and early 1940s. Concealing his camera, he took pictures of people who hadn't bothered to arrange themselves for presentation, even to themselves.
Walker Evans, image via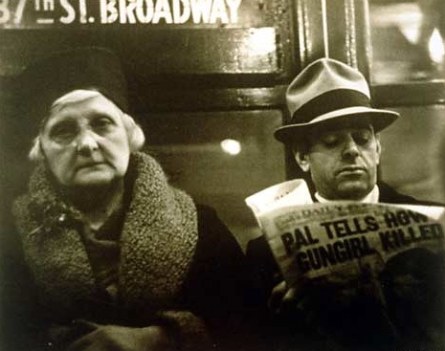 Another kind of dead air inhabits SuttonBeresCuller's project with the title, Panoptos, taken from panoptic, which means a single, clarifying view. I'd like to think that the horror here is conscious. Alas, listening to the artists hold forth and reading curator Krajewski's brochure, I fear a sunny-side-up intent.
Panoptos is an interactive installation with 150 works taken from the Henry's collections that cover the walls, not salon style as much as storage. The lighting is bad, and there is no information about any of the artists, including even their names. Making matters worse is a long vertical apparatus with an LED light that travels in front of everything on view, offering a final and fatal distraction.
Looking gets the audience nowhere. To see what's allegedly there, they have to leave the gallery and proceed down the hall, where they can operate a joy stick to focus on individual works, again, with no information.
Museums are where we go to see originals. If we want to see reproductions, we can stay at home. The 150 artworks are thus negated to the apparent pleasure of the curator, who is charged with their care.
I can't think of a more disrespectful show since Marcel Duchamp's Mile of String in 1942. Asked to participate in a Surrealism retrospective, he draped everyone else's work in string. Duchamp, of course, intended the insult. Do SuttonBeresCuller? Does it matter? Reverse what they say their intentions are and we've got a winner. Either way, I'm on the side of the 150 artworks. From Duchamp to the Seattle trio, subverting the art of others leaves a sour taste.
Online image captures from Panoptos here. So what? What's lost in these captures is everything.