Martina Sauter is all about conjunction. Her photos are a collage of film stills from Godard, Hitchcock and Lynch, random shots taken in her daily life, views from her studio as well as her bleak back yard. What she makes of her composites is not seamless. The edge of a wall has its own thick edge, and the interior is recessive.

Schwarzer Rock 2010 Dual panel C-print, 11.75″ x 9.25″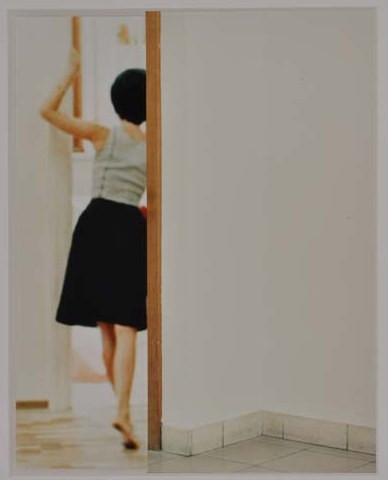 From diverse moments she makes a mood. If
Schwarzer Rock
features a sleep-walking Cindy Sherman-type from the
black-and-white film stills
,
Teppich
sets the kind of scene an amnesiac might wake up in, her memories elusive but her feelings intact.
Teppich 2006 Dual panel C-print behind Plexiglas, 38.25″ x 47.25″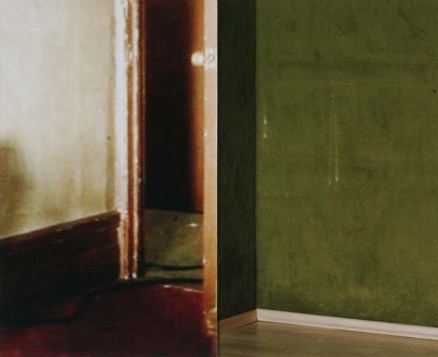 In Turundlandschaft, a door opens onto wallpaper in the artist's studio. It's a mountain with no cliffs of fall, available by the yard at a home decorating store. In a photo, already flat, Sauter could have restored a sense of volume. Instead, she took the Lynch road to lurid, cranking up the color of the ground. She has no wish to trick anybody, yet within her contrivances is a sense of the tragic.
Cold, impossible, ahead

Lifts the mountain's lovely head,

Whose white waterfalls could bless

Travelers in their last distress.
Auden – 1936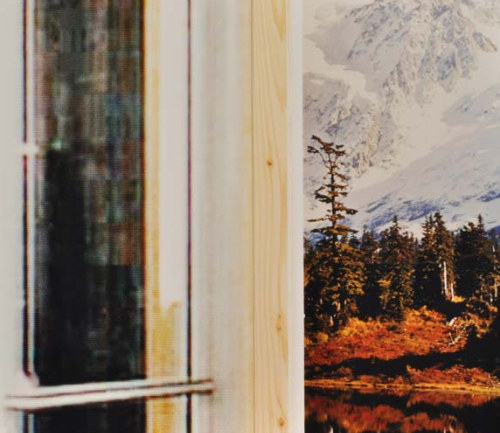 On the left in Hofmauer, brick from the artist's backyard. In the center, an alley from Hitchcock. The blur of the blue throws the dark brick in high relief.
Hofmauer 2006 Dual panel C-print behind Plexiglas 39″ x 53 "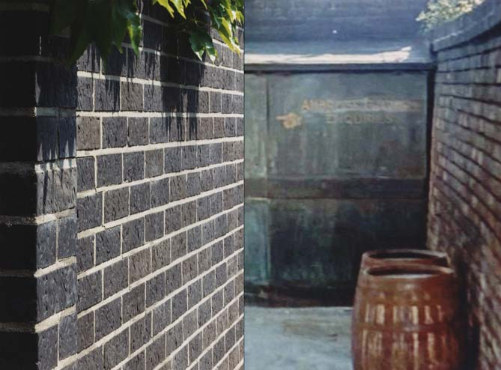 Sauter's Shapely Shadows and a New Apartment at Ambach & Rice through Oct. 31. She lives in Düsseldorf; this is her first solo exhibit in the U.S.