Installed last year in front of the Los Angeles County Museum of Art, Chris Burden's Urban Light is a hit by any public art measure, save one.
(Image, New York Times, click to enlarge.)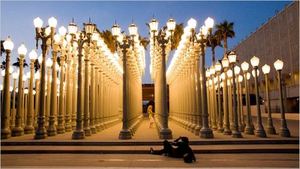 It echoes another piece of public art in Los Angeles: Sheila Klein's
Vermonica
from 1992. (More about her piece
here
.)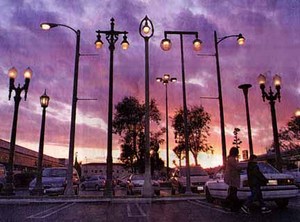 Burden employed lampposts dating from the 1920s and 1930s; Klein has 25 that sample changing styles of street furniture, beginning in 1925.
With his bigger budget and better placement come bigger impact. Fleshing out an idea developed by another artist is fine, but there's something troubling about a famous artist getting big attention for a concept a less celebrated artist brought to fruition in the same city 16 years earlier.
New York Times' story about Burden's piece here.