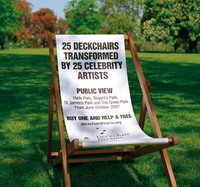 Instead of the cows, etc, the Royal Parks Foundation has commissioned paintings or prints on the drooping canvas of a classic deck chair.  The Foundations states:  Deckchairs have become a very British icon since the design was patented by Macclesfield businessman, John Moore in 1886.  The Titanic boasted 600 deckchairs – only six of them survived the sinking and one of these, believed to have been used as a makeshift life-raft, was sold at auction in 2001 for £35,000.
The "Celebrity Artists" did a fine job.  One of the artists, Jonathan Yeo, was withdrawn from public display for a clever pun of falling leaves (oak, but think fig) with images of formerly covered genitalia.  The Foundation is displaying and selling the Yeo chair at its website.  See the Guardian.  Bid now on online or attend the auction on June 3 in London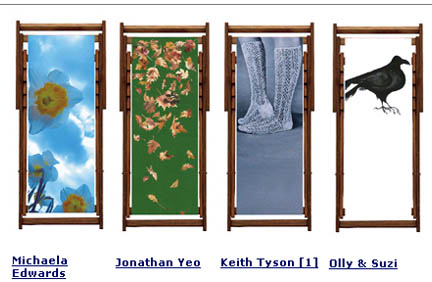 But the most interesting part for me is the very, very high quality of the winning children's designs.  Are all children artistic gifted under the age of nine years old?  How does human culture suck this instinct out of our being?