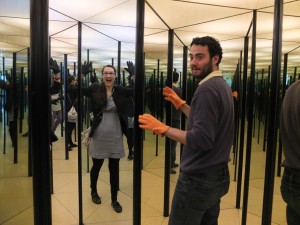 As Bansky's Dismaland un-amusement park opened in the UK this week, I am looking at the mirror funhouses.   As a boy in the USA, part of every boy's life was visiting the mirrored funhouses at the traveling county fair or beachside amusement park.  Best with my brothers as you laugh in the curved mirrors or try to find each other in mirror maze.  Sometime before age 12, everyone figures out that you follow the dirty glass edge in the floor to avoid the mirrors.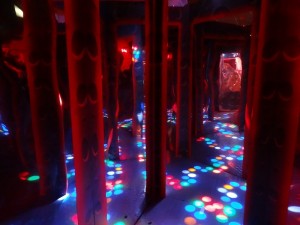 Using mirrors to make an infinite space by artists is less exciting than the standard funhouse.  With the artists' projects, the activity is only visual.  Your own body and body of others distract from the infinite as the human being is always too dominate.  For that reason, some artist use windows rather that stepping into the infinite space.
Where the funhouse appears random, the space of the contemporary mirror box is always Cartesian.  Infinite space is marked by the grid of abstract rectangles of land or sky in a perfect geometry such that the territory numbered.  With numbers, the territory can be found again in the future.  Yoyoi Kusama does her best to prevent the Cartesian grid with balloons, hexagons and random tinkling lights.
Below are three artists with mirror rooms.  To identify.  Lucas Samaras (1966) has a mirror covered table and chair in the center.   Yayoi Kusama ( 1965, 1966, 1991, 2011, 2013) has made many versions of the mirror with spotted sculptures or sparkling lights.  Thilo Frank (2012) looks like Samaras except the participant is in a swing.