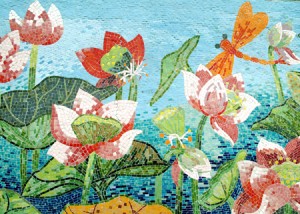 The Hanoi mural, which is built on the walls of the Red River dyke, was constructed between 2007-10.   The concept came from  Vietnamese artist, Nguyen Thu Thuy, a journalist and painter who works for the Hanoimoi newspaper.  Ms Thuy wanted to mark the city's millennium with an artistic mural which reinvigorated urban Hanoi and bring local communities together through public art.  WATCH THE VIDEO.
The mosaic involved 35 professional artists from Vietnam and from 10 countries including Denmark, France, Holland, Spain, Italy, Britain, America, Argentina, New Zealand and Australia. In addition, over 100 artisans from traditional ceramic villages in Vietnam joined the project and were supported by 500 Vietnamese and international children, and students from fine arts colleges throughout Vietnam.
Email the Artist:  Ms. NGUYEN THU THUY   thuthuymosaic@gmail.com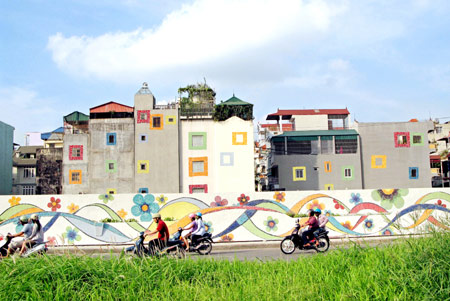 ---
Unfortunately, the Red River dyke is a dyke.  In many places with heavy water infiltration from the back, the tiles have fallen off.  The images also reveal that the installers failed to respect the joints in the concrete itself. A space without tiles should have left at the joint.