Perhaps a division exists among the designers and artists of physical space in the city. All them wish to bring renewed energy to the person in space. Physically, the artists could create a perfect moment of relaxations under a tree and the near the fountain on a hot day. Mentally, the artists could spark contemplation, a laugh or a conversation by adding images or text that interaction with the attributes of the space or culture.
Another group of people has these goals, but also wished to bring life to space itself. Not more human activity as this phase "bring life to a place" usually means, but rather animating the place itself. These artists feel a psychological (and perhaps physical) transformation described metaphorically as "energy".
Since storytelling began, poets have described this psychological state with its sense of intimate connection to the land, buildings, trees, etc that are present in that location. Professionally, the best gardeners, landscape architects and architects know and implement spatial transformation to heighten this feeling of connection with an animated place. Typically, artists have so little control of a space that their maximum impact might be compared to a beautiful tree – only one element, but an essential element. A tiny list of artists that have specialized include Robert Smithson, Dan Graham, David Hammons, Buster Simpson and Michael Singer. Many other artists strive, but don't 100% succeed in reinforcing or modifying the intimate connection.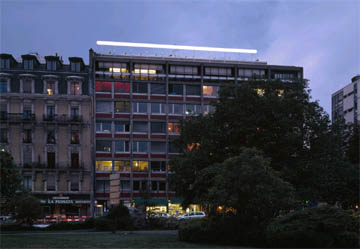 Breath by Jerome Leuba. Photo: Serge Fruehauf, 2007


Breath by Open Ended Group. Photo by Peter Cunningham
Two artists this summer named their new installations "Breath". Even more than a beating heart, breathing is the visible proof of life. To feel the intimate connection of poets, we humans look for the signs of life – that is change. We look for scars on the rocks, the broken branch and the pooling rainwater. We look for tropism where things change because their action to connect or avoid something else. We look for rhythm in the repetition of form and actions like a line of ants or a breath.
Both artists this summer used the changing bright to dull of electrical light intensity to simulate breathing. Both artists attached the long strip that light up on the façade of a building in a public space. Both artists assumed the traveler would stop and watch the coming and going of light. The artists have entirely different objectives for the space.
Jerome Leuba in Geneva strives to animate while the Open Ended Group creates a visual performance of animation. In the dark above the park, Leuba's horizontal neon tube slowly appears and disappears, mimicking inhale and exhale. Open Ended never folds into the dark due to the ambient light of Lincoln Center. The slow on and off spot lights shining on the vertical banners mounted to the concert hall columns and fade before returning to brightness through an arbitrary but music generated pattern. Leuba is silent, singular and pure. Open Ended is ever-changing, highly-designed, loosely-decorated and audible.
Open Ended writes, "as if Avery Fisher Hall were breathing with music, with light, and with thought". The old "as if". The difference between metaphor and simile. Open Ended does not contribute to the animation of the plaza, but converts Avery Fisher into a music machine. It is a live action symbol reminding us of ourselves through matching our biology and history of music generated via the rhythm of that biology – breathing in chorus.
Whether Leuba sculpture works or not, I cannot know without a trip to Switzerland. But Leuba wants the metaphor. The work and its space actually breathe. Like a flower blooming through a crack in cliff, its presence shifts the traveler's perspective from utilization to listening. The imagination makes the psychological shift to knowing the space as alive through the tiny breath.

Breath in Geneva by Jerome Leuba

Breath at Lincoln Center by Open Ended Group members Marc Downie and Paul Kaiser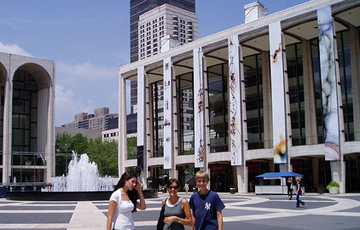 Breath at Lincoln Center on Avery Fisher Hall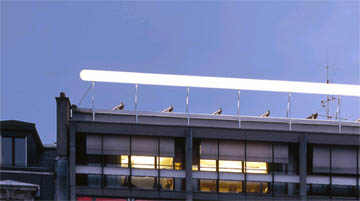 Breath in Geneva. Photo: Serge Fruehauf, 2007
Organizational Links
Lincoln Center Breath Website
The Geneva public project NEON
To add another little touch, I found this neon drawing of a brainwave pattern on the top of British hospital (I have lost all information about the work.) Clearly just a symbol. But the work is a courageous act for hospital since the brainwave is now the legal definition of human life or death. Think about it.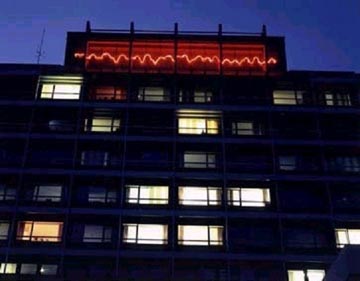 Unknown Artist. Brainwave at top of hospital in UK