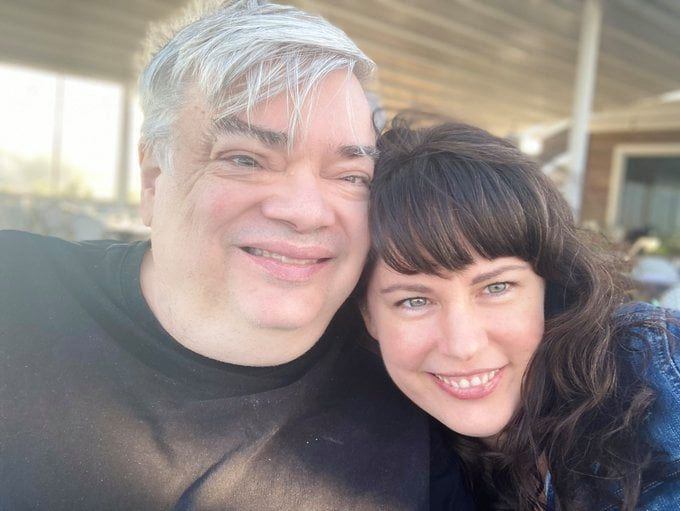 I mentioned in this space the other day that "personal distractions" were among the things that had kept me from posting for three weeks. The main one is the fact that I have fallen in love. 
The woman in question is Cheril Mulligan, a theater-and-film buff from and lifelong resident of Long Island. We became acquainted through Twitter, on which she tweets under a pseudonym, and "Three on the Aisle," the theatrical podcast that I do with Peter Marks and Elisabeth Vincentelli. We got to know one another during the lockdown by exchanging direct messages on Twitter, and resolved to meet in person once we were both fully vaccinated. We both realized during her first visit to my apartment in upper Manhattan in June that we were in love, and we've had no reason to change our minds since then. Indeed, we now visit each other every weekend.
What's she like? Smart, funny, kind, caring, and beautiful, for openers. (Yes, she looks like Liv Tyler.) In addition to appreciating good food, Cheril loves music—she's deeply into Stephen Sondheim—and has a keen ear. Our tastes overlap, but not completely, in part because she's a good deal younger than I am. As a result, we have the continuing pleasure of sharing all sorts of new things with one another. It was thanks to Cheril, for instance, that I first heard the music of John Hiatt and saw The Visitor, Paddington 2, and (no kidding) Ferris Bueller's Day Off, while I in turn have had the privilege of showing her It Happened One Night and Rio Bravo and introducing her to Bill Evans and João Gilberto. I rejoice to report that she is now a full-fledged bossa nova fan.
My late wife Hilary, to whom I was wholly devoted, wanted me to find a new partner as soon as possible after she died, so much so that she brought up the subject more than once in her last months. "You'll make a shitty singleton," she warned me. I knew she was right, but I didn't think it possible that I would get so lucky twice in a lifetime, especially in the midst of a pandemic, and four months later, I'm still stunned by my good fortune. Like the song says, I am once again "aware/Of being alive," and it is my beloved Cheril who has made me so. Having her in my life is an unmixed blessing.
* * *
Adam Driver sings Stephen Sondheim's "Being Alive" (from Company) in Noah Baumbach's Marriage Story: