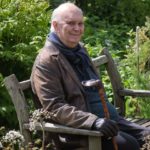 In today's
Wall Street Journal
I write about the Stephen Joseph Theatre's
webcast
of a radio play written and performed by Alan Ayckbourn. Here's an excerpt.
* * *
Alan Ayckbourn, a great playwright who masquerades as a popular entertainer, remains abundantly active at the age of 81. Not only does he continue to write—80 plays to date—but he acted in a radio play of his own, "Anno Domino," that was webcast in June by Scarborough's Stephen Joseph Theatre, the company Mr. Ayckbourn led from 1972 to 2009. Now he has given us a second radio play, "Haunting Julia," first staged in 1994 and newly adapted and directed by the author for audio-only performance, in which he plays three parts with seemingly casual virtuosity.
"Haunting Julia" is a latter-day ghost story about a Mozart-like musical prodigy who died of an overdose of sleeping pills at the age of 19 and with whose suicide the play's three characters are still obsessed 12 years later….
"Haunting Julia" is a ghost story in the sense that inexplicable things take place in it (none of which I will describe here). But it is, I think, better understood as a psychological drama about the devastating emotional damage wrought upon people who find it impossible to come to terms with the untimely death of a loved one. Seen from that point of view, it is singularly well suited to the moment…
* * *
Read the whole thing
here
.