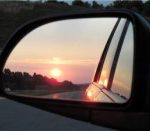 From 2004:
"This is absolutely the only place to live," I told her. "Nowhere else."

"Oh, I guess it's all right to visit other places," she replied. "And you could live somewhere else for six months, if you had to. Or maybe even a year."

"But only if you don't give up your lease," I said firmly.

We giggled, knowing perfectly well that neither one of us had the slightest intention of going anywhere else for more than a week or two….
Read the whole thing
here
.