In today's Wall Street Journal "Sightings" column I recall the career of Boris Karloff, who was as fine a stage actor as he was a movie star. Here's an excerpt.
* * *
Chuck Jones' much-loved 1966 animated version of Dr. Seuss' "How the Grinch Stole Christmas" will be telecast for the umpteenth time by NBC on Christmas night. The narrator is Boris Karloff, whose speaking voice (he sounded like a kindly Edwardian uncle) will be familiar to anyone who's seen "Grinch," though he was far better known in his own day for having played the heavily made-up monster in James Whale's 1931 screen adaptation of "Frankenstein," the movie that made him a full-fledged star. Julie Harris, who later appeared opposite Karloff on Broadway and TV, called him "a great actor…He had an enormous warmth and humanity, and this fascinating darker quality. It was mysterious. You wanted to know where such a man came from." But unless you're old enough to have seen "Frankenstein," it's possible that you won't recognize his name—and you certainly won't know that there was far more to him than the monsters and madmen he played on screen….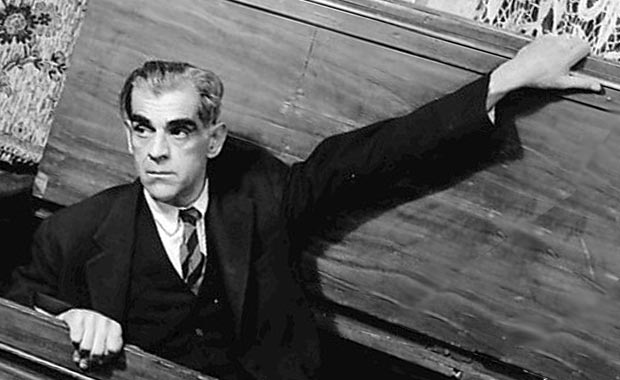 As a result of the success of "Frankenstein," alas, he was permanently typecast, and spent the rest of his life appearing in horror films that were mostly of indifferent quality (remember "Abbott and Costello Meet Dr. Jekyll and Mr. Hyde"?). A few of them, fortunately, above all "The Body Snatcher" (1945) and "Bedlam" (1946), produced by Val Lewton, and "Targets" (1968), Peter Bogdanovich's first feature film, were more than good enough to suggest how sensitive an actor he was beneath the bogeyman makeup that he often wore on screen….
Karloff's first real opportunity to show his stuff came when, in 1941, he returned to the stage after a long absence—in a comedy. He made his Broadway debut in the original production of "Arsenic and Old Lace," Joseph Kesselring's now-classic black farce, which ran for 1,444 performances. In it, he created the role of Jonathan Brewster, a psychopathic mass murderer whose life is ruined when an alcoholic plastic surgeon inadvertently makes him look like—yes—Boris Karloff.
At first he was terrified by the thought of acting in front of live audiences after having spent so long in Hollywood. A month after the show opened, he recalled, "I got on the scales and I had lost 26 pounds—in sheer fright." But to everyone's amazement, his own included, he turned out to have a knack for comedy, and the rave reviews that he received for "Arsenic" inspired him to continue performing in plays as a more artistically fulfilling sideline….
* * *
Read the whole thing
here
.
Julie Harris, Boris Karloff, and Basil Rathbone star in the 1957 Hallmark Hall of Fame TV version of the Broadway production of The Lark, Lillian Hellman's English-language version of Jean Anouilh's 1953 retelling of the story of Joan of Arc:
A live TV version of Joseph Conrad's Heart of Darkness, starring Roddy McDowell, Eartha Kitt, and Boris Karloff and originally telecast live on Playhouse 90. Adapted by Stewart Stern and directed by Ron Winston, this program was originally telecast by CBS on November 6, 1958: