In today's Wall Street Journal I review the U.S. premiere of Alan Ayckbourn's A Brief History of Women. Here's an excerpt.
* * *
Alan Ayckbourn's 81st full-length play recently opened off Broadway. His 82nd full-length play will open in England in September. Given that he is 79 years old and shows no signs of slowing down, I assume that he has at least another dozen or so in him—and that they'll all be good….
Scarborough's Stephen Joseph Theatre, which Mr. Ayckbourn ran from 1972 to 2009 and where he continues to stage his own work, remounts one or two of his productions every couple of seasons as part of 59E59 Theatres' annual "Brits Off Broadway" festival. This time it's Play No. 81, "A Brief History of Women," in which he uses the seemingly dull life of a fellow who started out as a footman and ended up as a hotelier as a lens through which we view the changing place of women in 20th-century English society.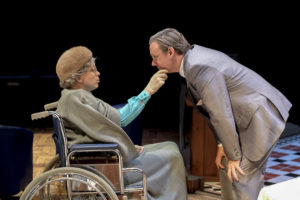 As usual with Mr. Ayckbourn, "A Brief History of Women" arises from an ingenious structural premise: All four scenes take place on the ground floor of the same country house at 20-year intervals, the first in 1925 and the last in 1985. In the first scene, Anthony Spates (played by Antony Eden), the only character who appears throughout the play, is a part-time servant to the owners of Kirkbridge Manor, an aristocratic couple who are on the outs. In 1945 the manor has been turned into a prep school where Anthony teaches, contriving to get himself fired for engaging in hanky-panky with a colleague. By 1965 it's become an arts center that he runs—not very well, one gathers, though he does find a wife there—and in the last part, the great house has been done over as a hotel of which Anthony is the part-time manager and where he meets a 97-year-old guest who once upon a time was the unhappy lady of Kirkbridge Manor.
Such is the stuff miniseries are made of, but Mr. Ayckbourn doesn't think that way. Instead, he compresses each "episode" of his complex plot into a single scene that plays out in something close to real time, thereby intensifying its emotional impact. A few of the plot lines are explicitly farce-flavored, but shadows of melancholy are rarely far from view…
* * *
Read the whole thing here.
A featurette about the original Stephen Joseph Theatre production of A Brief History of Women: