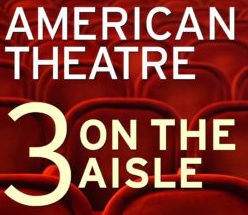 The latest episode of Three on the Aisle, the bimonthly podcast in which Peter Marks, Elisabeth Vincentelli, and I talk about theater in America, is now available on line for listening or downloading.
In this episode, Peter, Elisabeth, and I start things off by sharing our preliminary thoughts about the Broadway transfer of the National Theatre revival of Tony Kushner's Angels in America, which all three of us will be seeing in the next few days. After that, we're joined by Chris Jones, the Chicago Tribune's theater critic.
Says the Three on the Aisle web page:
The critics discuss the Broadway revival of Tony Kushner's Angels in America, plus the new book about the making of the show, The World Only Spins Forward, by Dan Kois and Isaac Butler…

Then Chris shares his thoughts on Hamilton in Chicago and the non-NYC productions of the hit musical. Has its move across the country dampened the show's popularity, or is it as hard to purchase a ticket as ever?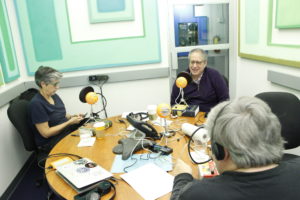 We wrap up the episode by talking about shows that we've seen in New York, London, and Chicago. Some of them we liked, others…well, listen and learn.
To listen, download the eighth episode, or subscribe to Three on the Aisle, go here.
In case you missed any of the first seven episodes, you'll find them all here.