The Wall Street Journal asked me to write a special "Sightings" column about the James Levine scandal and its possible short- and long-term effects on the Metropolitan Opera. Here's an excerpt.
* * *
"Everybody knew." That's what they said about Harvey Weinstein, and that's what they're saying now about James Levine—but can it be true? Not in the narrowly legal sense. As of today, nobody "knows" anything about the alleged transgressions of the Metropolitan Opera's music director emeritus beyond the indisputable fact that, as the New York Times has reported, four men have publicly accused him of abusing them sexually many years ago when they were teenagers….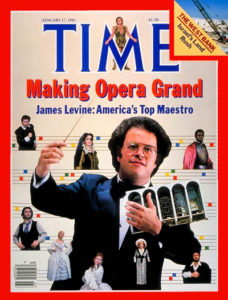 Yet it is no less indisputable that rumors that Mr. Levine is a pedophile have circulated for the whole of my adult life. I first heard them in Kansas City in the '70s. I have yet to meet anyone in the world of opera who was unaware of these rumors….
The Times reported over the weekend that a spokesman for Mr. Levine had no comment on the specific allegations that have now emerged, and that he has twice denied to Met executives, in 1979 and a year ago, any sexual misconduct. But the company is taking the charges seriously enough to have suspended its relationship with the conductor, who served as its music director from 1976 to 2016. Over the weekend, Peter Gelb, the Met's general manager, canceled all of Mr. Levine's scheduled performances and commissioned Proskauer Rose, an outside law firm, to conduct an investigation.
It is impossible to overstate the significance of these developments. In a very real sense, James Levine is the Met. He is the public figure most closely associated with the company, the one who has been central to its fortunes for more than four decades, and the first truly great artist to be swept up in the current maelstrom of sexual-harassment accusations. If it is proved that he did what his accusers claim, there can be no doubt that his extraordinary career will come at once to a shameful end.
Beyond that, much will hang on whether Proskauer Rose's investigation proves that "everybody"—that is, those inside the Met—did in fact know about Mr. Levine. For this is no ordinary scandal: It is an existential crisis, one that threatens the survival of a financially beleaguered organization that had already spent years struggling with the problem of Mr. Levine's declining health….
* * *
Read the whole thing here.
James Levine leads the Metropolitan Opera Orchestra in a performance of the overture to Mozart's Magic Flute: