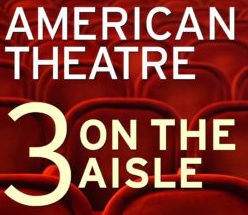 The fourth episode of Three on the Aisle, the new podcast in which Peter Marks, Elisabeth Vincentelli, and I talk about theater in America, is now available on line for listening or downloading.
In this month's episode, Peter, Elisabeth, and I look back at the shows we saw. Says the Three on the Aisle web page:
The conversation ranges from the trends and controversies that preoccupied playmakers across the country over the last 12 months, to the plays and performers who made captivating impressions on them and other theatregoers. All in a year that presaged seismic changes in artistic leadership of many major theatre companies—and in the attention paid to such issues as gender parity and sexual harassment.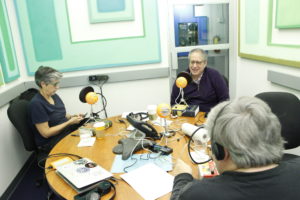 In lieu of the usual show-ending segment in which we talk about the shows we saw since our last podcast, we wrap things up this time by going around the table and describing something that each of us would like to see on an American stage in 2018. The "table" in question is, however, purely metaphorical—my contribution to the proceedings was transmitted to New York via Skype from West Palm Beach, where I was rehearsing Billy and Me.
In case you haven't noticed, Peter, Elisabeth, and I are having a lot of fun with our new toy. We like talking about theater and we like talking to one another, and I'm starting to think that we might just be onto something here.
To listen, download the fourth episode, or subscribe to Three on the Aisle, go here.
In case you missed any of the first three episodes, you'll find them all here.