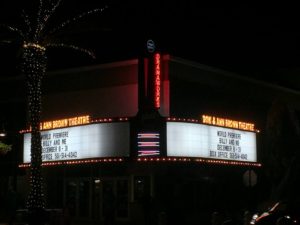 Palm Beach Dramaworks' production of Billy and Me, my second play, opens tonight in West Palm Beach. With two smooth public previews under our belts, I feel confident about the upcoming occasion. I wish Mrs. T could be here to share it with me, but saving her absence, I expect to have a perfectly marvelous time tonight.
Truth to tell, my opening nights have always been happy events. If past experience holds true, I'll be excited, but not nervous. I've never been like George S. Kaufman, who found them so anxiety-making that he was incapable of sitting down to watch his own shows. As Moss Hart recalled in Act One,
Back and forth across the back of the theatre he paced at a tremendous clip, staring down at the carpet and heedless of what or who might be in front of him. The ushers threw him a sidelong look and gave him a wide berth. He paced up and down like a man possessed, as indeed he was possessed at those moments, by a demon that only the laughter of an audience in the proper places could exorcise.
For whatever reason, that's not me. I sit quietly in my seat and watch the show, always aware of the audience's unfolding reaction but nonetheless fully engaged with the actors on stage, and when the curtain falls, I breathe a sigh of relief and feel good about the whole thing. Go figure.
In preparation for the big night, I present—as I always do before my opening nights—the following clip, which I first saw on TV as a child and which in recent years has become increasingly relevant to my life.
Break a leg, everybody: