In today's Wall Street Journal I review the Public Theater's new production of Hamlet. Here's an excerpt.
* * *
Sam Gold is a top contender for the title of America's Hottest Stage Director. A still-new face who made his professional debut less than a decade ago, everything he does these days attracts attention. Nor is he any kind of phony: I've been quite impressed by some of his shows, "Fun Home" in particular. On the other hand, certain of Mr. Gold's other productions have showed signs of an ostentatious, self-regarding austerity that is the mark of a director who cares more for his interpretations than the plays that he's interpreting. It's suggestive that his revivals tend to be less sure-footed than his productions of new plays…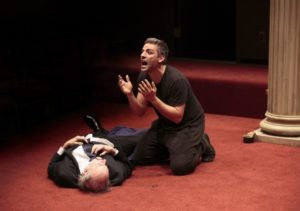 All of which brings us to Mr. Gold's new Public Theater production of "Hamlet." Like his "Othello," in which Daniel Craig played Iago, it's a vehicle for a movie star, in this case Oscar Isaac, lately of "X-Men: Apocalypse," whose mere presence in the cast ensured that tickets to "Hamlet" would be as scarce as orchestra seats for "Hamilton." Nevertheless, this Hamlet is no stunt: Mr. Isaac, like Mr. Craig, is an accomplished actor with classical training and extensive stage experience, and there's a good reason why Mr. Gold should have chosen to work with a man who looks much younger than his 38 years. His "Hamlet" is all about youth—youth and the intimacy made possible by the fact that the Public is presenting the play in its 275-seat Anspacher Theater, where everyone in the audience is no farther from the playing area than a pebble's toss….
It's a conversational "Hamlet," one well suited to the tastes of theatrical novices who've never seen a Shakespeare play and might well be discomfited by the space-filling rhetoric of classical acting. But it's no less serious in purpose for its modesty of scale, and if it isn't exactly my kind of "Hamlet," it's still exciting in its own up-close-and-personal way….
Mr. Isaac's performance would make little sense in a large theater, for his throaty, colorless tenor doesn't have anything like the range and rainbow-like vocal variety of a true classicist. Nevertheless, his interpretation is singularly intelligent—every line reading is fresh and spontaneous…
* * *
Read the whole thing here.