In today's Wall Street Journal I review an important new off-Broadway revival of Sweet Charity. Here's an excerpt.
* * *
Why is the New Group, which specializes in hard-headed plays by such contemporary writers as Mike Leigh and Sam Shepard, mounting a fluffy-pie musical like "Sweet Charity"? And why is Sutton Foster, one of Broadway's biggest stars, playing the title role in a scaled-down off-Broadway revival? I haven't a good answer to either question, especially seeing as how "Sweet Charity" was revived on Broadway as recently as 2005, very effectively but with only moderate commercial success. Nevertheless, this new version, directed by Leigh Silverman ("Coraline") and choreographed by Joshua Bergasse ("On the Town"), is the best production imaginable, and Ms. Foster is giving the performance of a lifetime in the title role. I've never seen her do anything better—and that's really saying something.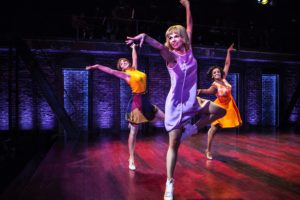 Ms. Foster, who is endearing without limit and dances as well as she sings, was evidently put on earth to play the part of Charity Hope Valentine, a bruised-but-optimistic sort-of-hooker with a heart of unsmelted gold. "Sweet Charity," after all, is a dance show if ever there were one: Not only is Ms. Foster's character a frog-kissing dance-hall "hostess," but the original 1966 production was staged by none other than Bob Fosse. So let's also stipulate up front that Mr. Bergasse is worthy of slipping on his legendary predecessor's shoes. His production numbers steer blessedly clear of derby-over-the-eyes school-of-Fosse clichés, instead incorporating social-dance moves from the '60s to fresh-faced, quick-witted effect.
The real key to this production, though, is that it is being presented in a small theater (222 seats) on a three-quarter-round scenery-free open stage. This permits the action to move very fast, and with the actors no more than 15 or 20 feet away from most of the audience, nobody needs to exaggerate. Ms. Silverman has used these circumstances to give us a "Sweet Charity" that is emotionally convincing to the highest degree, starting with Ms. Foster's performance, which owes nothing to the waif-like past examples of Gwen Verdon and Shirley MacLaine. She is by turns feisty and goofy, and whenever somebody hurts her, you feel the sting in your heart….
* * *
Read the whole thing here.
Sutton Foster talks about Sweet Charity:
Gwen Verdon sings "If My Friends Could See Me Now" (from Sweet Charity) on The Ed Sullivan Show. This performance, originally telecast by CBS on March 5, 1967, reproduces Bob Fosse's original Broadway staging of the number:
Shirley MacLaine sings "If My Friends Could See Me Now" in Bob Fosse's 1969 film version of Sweet Charity: