In today's Wall Street Journal I review a Massachusetts revival of Fiorello! Here's an excerpt.
* * *
What makes a musical revivable? The mere fact that it was a hit on Broadway once upon a time is no guarantee that anyone will care to see it a half-century later. Nor is the quality of the score necessarily relevant, since the caravan of pop-music taste long ago moved on from the traditional golden-age style of songwriting. To be sure, it still seems to help if a show is full of standards—but how many people under the age of 40 can whistle even one of the tunes from "Show Boat" or "South Pacific" today?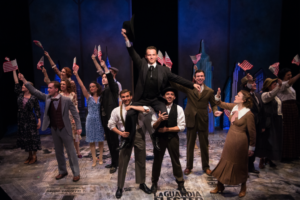 All in all, it's a bit of a mystery why certain musicals continue to be performed while others vanish in the weeds. That's what sent me up to Massachusetts to catch a rare revival of "Fiorello!" Not only did this 1959 show run for two years on Broadway, but it won a Pulitzer Prize, a distinction that it shares with such distinguished musicals of the past as "Of Thee I Sing," "Sunday in the Park With George" and, more recently, "Hamilton." Moreover, the score is by Sheldon Harnick and Jerry Bock, who went on to write "She Loves Me" and "Fiddler on the Roof," and the show has received not one but two City Center "Encores!" concert presentations, in 1994 and 2013. Yet scarcely anybody stages "Fiorello!" nowadays, and few latter-day theatergoers have heard of it. So why did it drop out of sight? Now that I've finally seen "Fiorello!" in a fully staged version, I'm confounded by its obscurity, for it turns out to be a charmer, lively and heartfelt and full of spectacularly well-crafted songs. What's more, its subject—political corruption—is perennially up to date. On top of all this, the Berkshire Theatre Group's production, directed by Bob Moss, is a Fourth of July firecracker, crisply staged and soundly performed by a young but promising cast.
If "Fiorello!" fails to make it back to Broadway, the reason will surely be that no one cares to take a chance on a musical about a long-dead mayor whose sole claim to contemporary fame is that LaGuardia Airport is named after him. But in 1959, Fiorello H. LaGuardia, who had died just 12 years earlier, was still very much a living memory in New York, the beloved three-term mayor who ran as a reform Republican but governed as a staunch progressive…
Today few Americans are inclined to idealize any politician, much less sing show tunes about him, and the title character of "Fiorello!" (played by Austin Lombardi) is a workaholic hero who spouts starry-eyed slogans ("Let's fix the wagon/Of this gold-hungry dragon!") that have a somewhat implausible air. But the ballads, especially "When Did I Fall in Love?" and "Till Tomorrow," are lovely, and "Fiorello!" also sports a rousingly cynical comic ensemble song, "Little Tin Box," in which a gaggle of political hacks (led by Rylan Morsbach) envision themselves telling a judge that they became rich not by taking bribes but by squirreling away their lunch money…
* * *
Read the whole thing here.
Newsreel footage of Mayor Fiorello H. LaGuardia reading "Dick Tracy" on WNYC. LaGuardia read the the funny pages out loud on radio during a 1945 newspaper strike. He is seen doing so in the opening scene of Fiorello!:
Howard Da Silva sings "Little Tin Box," from Fiorello! This performance was originally telecast on HBO in 1980. Da Silva sang the song in the original 1959 Broadway production: