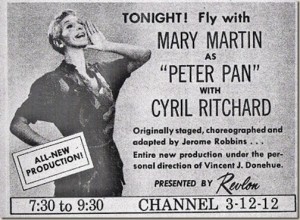 In today's Wall Street Journal "Sightings" column I write about a historically important home-video release. Here's an excerpt.
* * *
Peter Pan is everywhere these days, and I, for one, am getting good and sick of him. Not only does the dreadful "Finding Neverland" seem likely to run on Broadway for several more decades, but "Peter and the Starcatcher," which is only marginally less bad, has become a regional-theater staple. Now that "Pan" has gone belly-up in movie houses, though, I'm starting to wonder whether my growing exasperation with the Boy Who Wouldn't Grow Up might be more widely shared. Hence it's valuable to be reminded of the powerful and permanent appeal of the play on which all these tedious prequels are based.
That reminder comes in the form of VAI's home-video release of the original TV versions of Jerome Robbins' celebrated musical-comedy adaptation of J.M. Barrie's "Peter Pan," the show for which Mary Martin (who played Peter in drag) is still best remembered. These programs, originally telecast live and in color on NBC in 1955 and 1956, were landmarks in the history of television: Never before had so large a TV audience seen a Broadway show. The 1955 version was viewed by more than 65 million people, one out of every three Americans, and it made so deep an impression on those who saw it that NBC did the whole thing over again 10 months later.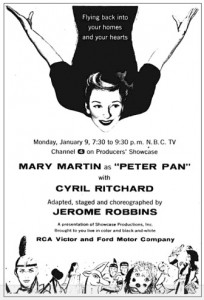 In those days you couldn't repeat a live telecast any other way—videotape had yet to be invented—but both performances were filmed in black-and-white for archival purposes. These "kinescopes," as such films are known, have never before been issued on home video other than in blurry pirate versions. (The out-of-print color version of "Peter Pan" released 17 years ago was the 1960 telecast, which was videotaped.) VAI has remastered both kinescopes with scrupulous care, and the results, if not up to modern-day broadcast quality, are surprisingly sharp and perfectly watchable….
It's not hard to understand the colossal fuss that was made at the time over the 1955 telecast. Then as now, the only way to see a new hit Broadway musical was to go to New York and pay for a ticket, and "Peter Pan," which ran for 152 performances, closing just nine days before the TV version aired, was performed at the Winter Garden Theatre, which has 1,526 seats. You can do the math: The number of people who got to see the show onstage was a tiny sliver of the far greater number who saw it on TV for free. If you want to know how the common culture of postwar America helped to bring its citizens together, you can't do much better than to consider "Peter Pan."…
* * *
Read the whole thing here.
From the 1956 telecast of Peter Pan, Mary Martin sings "I'm Flying," by Moose Charlap and Carolyn Leigh: