In today's Wall Street Journal I review the Boston premiere of Katori Hall's Saturday Night/Sunday Morning and two New York premieres, On Your Feet! and King Charles III. Here's an excerpt.
* * *
After seeing "Our Lady of Kibeho" off Broadway last November and "The Blood Quilt" in Washington, D.C., this past May, I knew that Katori Hall was a potentially major talent. That's why I drove up to Boston to check out the Lyric Stage Company's revival of one of her earlier plays, "Saturday Night/Sunday Morning," and I'm thrilled to report that the 34-year-old Ms. Hall is now three for three in a row.
Written in 2008, "Saturday Night/Sunday Morning" is a Chekhov-style mood piece set in a Memphis beauty parlor at the end of World War II. Imagine a cross between "Steel Magnolias" and "Barbershop" and you'll start to get a sense of what Ms. Hall is up to—but "Saturday Night/Sunday Morning," even though it's full of raucous laughs, is no light comedy. Each scene trembles with tenderness and pain, and each character will lodge in your memory long after the lights go up at evening's end.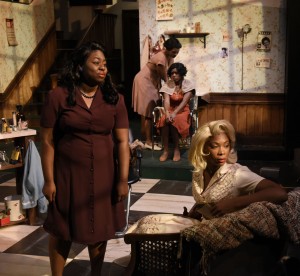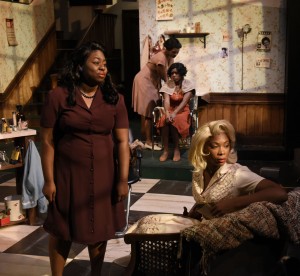 Miss Mary's Press 'n Curl isn't just a beauty parlor: It's also a ramshackle boarding house for young black women who have stopped in Memphis on their way to parts unknown, run by a disillusioned war widow (Jasmine Rush) who knows too well how hard the world can be. The absence of a strong plot doesn't matter in the slightest: No sooner do you meet these women than you want to know all about them…
Broadway's latest greatest-hits album, "On Your Feet!: The Story of Emilio and Gloria Estefan," is what the subtitle promises, a bioshow about the co-leaders of the Miami Sound Machine, the Cuban-American dance-floor pop group that torched the charts in the '80s with such catchy singles as "Conga" and "Rhythm Is Gonna Get You." Alexander Dinelaris' book is heavy on the Hollywoodian clichés, but it has its charming moments, too, and every other aspect of the production, directed by Jerry Mitchell, is slick and satisfying…
If you saw "The Audience" at least twice, you'll probably already have bought a ticket for Mike Bartlett's "King Charles III," a what-if fantasy in which Queen Elizabeth II finally kicks the bucket, followed by the ascension of her long-suffering son to the throne. But wait, there's a catch! The former Prince Charles (Tim Pigott-Smith, who is sensationally good) proceeds to defy Parliament by refusing to sign a bill abridging freedom of speech, thus triggering a 10-alarm constitutional crisis. So what, you ask? So this: "King Charles III" is a Shakespearean pastiche written in blank verse—and that, alas, is where the gas runs out. If you're going to write a two-and-a-half-hour-long Shakespearean pastiche, you'd better be a damned good poet, and Mr. Bartlett is a mere versifier…
* * *
To read my review of Saturday Night/Sunday Morning, go here.
To read my review of On Your Feet!, go here.
To read my review of King Charles III, go here.