In today's Wall Street Journal I rejoice in Bedlam Theatre Company's new off-off-Broadway productions of The Seagull and Sense and Sensibility. Here's an excerpt.
* * *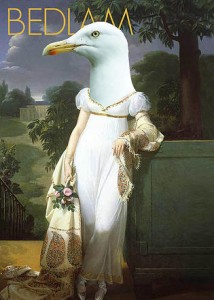 Great theater isn't about fancy sets or famous actors (though it doesn't necessarily exclude either). It's about imagination and intimacy. Given enough of both, a band of gifted unknowns can make theatrical magic in an empty room. That's what Bedlam Theatre Company is doing with its no-budget off-off-Broadway productions of "The Seagull" and "Sense and Sensibility," which are playing in repertory in a black-box performance space in downtown Manhattan that looks like the inside of a grungy warehouse. If you saw Bedlam's versions of "Hamlet" and George Bernard Shaw's "Saint Joan," performed under like circumstances in 2012 and 2013, you already know that no theater troupe in America is doing more creative classical revivals. These two shows, staged by Eric Tucker, Bedlam's artistic director, are—if possible—even better.
Mr. Tucker is fielding an ensemble of 10 actors this time around instead of the four-person casts that covered all of the roles in "Hamlet" and "Saint Joan," but his unpretentiously radical directorial style is otherwise unchanged. Instead of passively letting the action unfold before your eyes, you have to meet Bedlam halfway in your mind, for no attempt is made at conventional theatrical illusion: Men play women, women play men, people play animals. The décor amounts to a half-dozen cheap-looking chairs and tables, the costumes and lighting are dirt-plain and most of the audience is seated within arm's length of the playing area. Yet the paradoxical result is a realism so persuasive that rather than viewing a pair of over-familiar "classics" for the umpteenth time, you feel as though you're witnessing something that really happened, perhaps earlier today.
This is especially true of Mr. Tucker's modern-dress version of Anya Reiss' 2012 English-language adaptation of "The Seagull," in which the language of Anton Chekhov's play is colloquialized ("So what's this writer guy like?") and the action transposed from Russia in 1895 to America in 2014. By now such updatings are old hat, but this one works because the transposition is never stressed, much less made the whole point of the show. We are simply allowed to take it for granted that we're seeing a play set in the present, so much so that Laura Baranik, who plays Nina, the ardent young girl who longs to go on the stage, speaks in the unmistakable tones of a millennial adolescent.
As always with Bedlam, the close physical proximity of players and audience is used to breath-catching effect…
* * *
Read the whole thing here.