In today's Wall Street Journal I report on two important shows that I saw during my recent trip to Chicago, Chicago Shakespeare's King Lear and the Court Theatre's Native Son. Here's an excerpt.
* * *
In Chicago Shakespeare's modern-dress production of "King Lear," directed by Barbara Gaines, Larry Yando plays the mad old king as a snarling, capricious Frank Sinatra buff who has one foot caught in the quicksand of dementia. If you think that sounds gimmicky, think twice: Mr. Yando and Ms. Gaines have given us a colossal "Lear" whose sheer visceral impact is unrivaled. Watching it is like staring down a typhoon.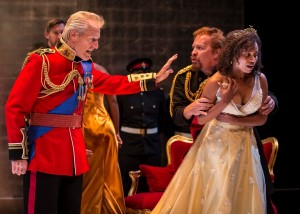 Mr. Yando is well known to Chicago playgoers for his fearlessly forthright acting in Writers' Theatre's "Dance of Death" and the Court Theatre's "Angels in America." Even for him, though, this is a career-clinching performance, noteworthy not just for its unflagging intensity (he is fully as potent in the first half of the play as he is after intermission) but also for its textured complexity. Great violence alternates unpredictably with great tenderness in Mr. Yando's Lear. At once frightened and frightening, he lashes out with startling physicality at his family and followers to cloak the slow crumbling of his consciousness, making all the more terrible the question that he asks of his Fool: "Who is it that can tell me who I am?"
Ms. Gaines is equally well known for the imaginative integrity of her high-concept Shakespeare stagings, and this "Lear" is exemplary of the virtues of her populist approach. Working closely with Lindsay Jones, the sound designer, she has woven Sinatra's recordings into the fabric of the play, using "Angel Eyes," the Matt Dennis torch song whose haunting last line is "'Scuse me while I disappear," as a recurring motif that foreshadows to wrenchingly apposite effect Lear's final disintegration….
"Native Son," Richard Wright's 1940 novel about a young black man from Chicago who recaptures his lost masculinity by killing a rich white debutante, is so inherently dramatic that several adaptations have made it to the stage, starting with the now-legendary Mercury Theatre version by Orson Welles and John Houseman that ran on Broadway in 1941. Now the latest version, adapted by Nambi E. Kelley and directed by Seret Scott, is being performed to stirring and timely effect by the Court Theatre.
The challenge of dramatizing "Native Son" is that the book relies on third-person narration. Ms. Kelley has responded by splitting Bigger Thomas, the protagonist, into the "real" Bigger (Jerod Haynes) and an alter ego (Eric Lynch) who gives voice to his suppressed inner thoughts, a convention similar to that employed by Brian Friel in "Philadelphia, Here I Come!" It's a convincing theatrical illustration of the way in which Bigger emasculates himself by hiding his simmering rage from the white world, and Messrs. Haynes and Lynch fit their dynamic performances together like the two sides of a freshly minted coin….
* * *
To read my review of King Lear, go here.
To read my review of Native Son, go here.
The trailer for Chicago Shakespeare's King Lear:
Frank Sinatra sings "Angel Eyes" on The Frank Sinatra Timex Show in 1959: