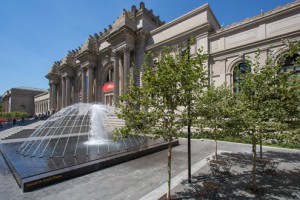 In today's Wall Street Journal "Sightings" column I discuss the critical and political contretemps stirred up by the opening of the Metropolitan Museum of Art's new David H. Koch Plaza. Here's an excerpt.
* * *
If you've walked past New York's Metropolitan Museum of Art lately, you'll have noticed the brand-new plaza in front of the building with the Beaux-Arts façade that is home to America's greatest art collection. Whenever alterations are made to a familiar structure, opinions usually vary widely and sharply. But one view is currently drowning out all others: Several art critics are miffed by the fact that golden letters emblazoned on the Met's new twin fountains identify the site as the David H. Koch Plaza, in honor of the trustee who wrote the $65 million check that paid for it in full….
These critics, and others like them, appear to have at least as much of a problem with Mr. Koch as they do with "his" plaza. Why? If you pay any attention to politics, you won't need to be told that Mr. Koch, the ninth-richest man in America, is the junior half of the notorious Koch Brothers, who give huge sums of money to right-of-center politicians and causes….
In our bipolar age, political purists are increasingly disposed to raise a stink whenever arts groups accept gifts from sources deemed by said purists to be unworthy. This tendency initially manifested itself in the case of tobacco companies like Philip Morris International that supported the arts. No doubt the company's commitment to what it calls "corporate social responsibility" was in part an attempt to divert attention from its less-than-socially responsible products. Nevertheless, the fact of its generosity is not to be ignored—or despised….
* * *
Read the whole thing here.