In today's Wall Street Journal I review two Broadway shows, Terrence McNally's Mothers and Sons and the new revival of Les Misérables. Here's an excerpt.
* * *
At 75, Terrence McNally has seen the best–and worst–of it. He's a member of the generation of gay men who survived the AIDS epidemic and lived long enough to marry their partners (as Mr. McNally himself did four years ago). In 1990 he wrote an Emmy-winning PBS teleplay called "Andre's Mother" about an angry mother whose son died of AIDS. Now he's returned to the subject with "Mothers and Sons," a stage play set 20 years later in which we once again meet Katharine (Tyne Daly), Andre's mother, and Cal (Frederick Weller), his lover, who has since wed Will (Bobby Steggert), a younger man with whom he has a six-year-old son, Bud (Grayson Taylor).
That's a big and fertile subject, and it's not hard to see why Mr. McNally might have had trouble writing about it with the emotional distance necessary to turn feeling into art. But he evidently lacks that distance, and the result is a play that is by turns glib, smug, preachy, sentimental and, for about 10 minutes of its hour-and-a-half span, quite moving.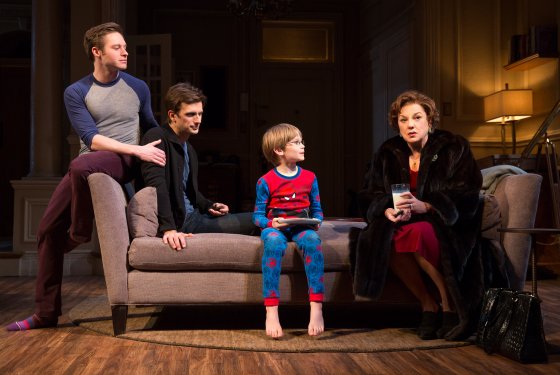 The glibness is the worst part. The first hour of "Mothers and Sons," a punchline-heavy depiction of Katharine's awkward reunion with Cal, rattles on far too easily. As for the smugness, it comes to the fore whenever Katharine, who grew up in a declassé New York suburb, married a Texan and moved with him to Dallas, opens her mouth….
I don't doubt that Mr. McNally has made what he believes to be a good-faith effort to give Katharine her due, or that the world is full of aging women who continue to bristle at the very thought of homosexuality. To turn this one into a stage villainess, though, is to pick off a slow-moving target….
"Les Misérables," which opened on Broadway in 1987 and ran there until 2003, was revived three years later in a cut-down version of the original staging that had a 463-performance run. Now it's back on Broadway, this time in a completely new production that is widely expected to attract fans of the 2012 film version. It seems a safe bet that it'll do so, and if, like me, you don't care for "Les Miz," you'll have trouble thinking of any other reason to revive it for the second time in a decade. So grab your brim and hold on tight: The new version, directed by Laurence Connor and James Powell, is one of the strongest musical-comedy productions to hit town in years. It doesn't make the show any better, but it's so exciting that you might want to go anyway….
* * *
Read the whole thing here.