How can a major symphony orchestra survive a crippling work stoppage? In my "Sightings" column for today's Wall Street Journal, I look at two American orchestras that are both grappling with this critical problem. Here's an excerpt.
* * *
The Minnesota Orchestra hasn't given a concert since October. If you've been keeping up with the increasingly dire straits into which America's regional symphony orchestras now find themselves, then the sequence of events in Minneapolis won't surprise you in the least: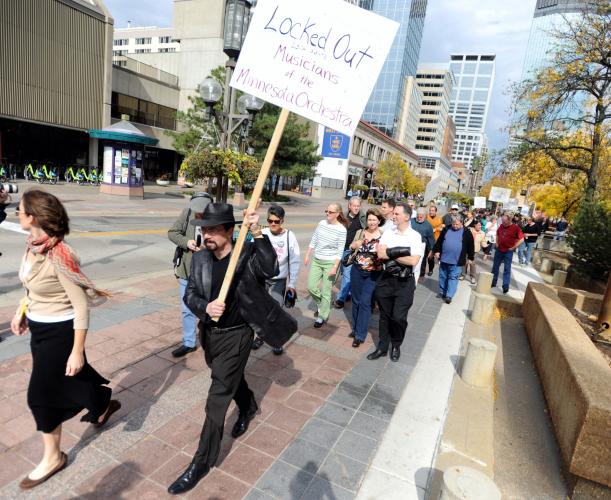 • The orchestra's management, citing chronic budget deficits, proposed to cut the musicians' annual base salary from $113,000 to $78,000.
• The musicians said no and refused to make a counteroffer.
• Management locked out the musicians.
The rest–so far–is silence….
Is there an alternative to such high-risk confrontations? I doubt it. Professional musicians who have worked hard to lift themselves into the upper-middle class (the average per capita income in Minneapolis was $29,558 in 2010) are understandably unwilling to see their paychecks slashed, much less to consider the grim possibility that the public at large might put a lower value on their services. They usually blame management for their plight–at times rightly so–and too often it takes a lockout or strike to persuade the players that the money simply isn't there.
This being the case, it makes more sense to ask: Is it possible to fix things after a debilitating, trust-destroying strike? The good news is that the Detroit Symphony, which went out on strike for six months in 2010-11, seems to have found a way to do so….
* * *
Read the whole thing here.