In today's Wall Street Journal "Sightings" column I reflect on the art collection of Bill Paley. Here's an excerpt.
* * *
Several of the finest paintings owned by New York's Museum of Modern Art, including Pablo Picasso's "Boy Leading a Horse" (1905-06) and Henri Matisse's "Odalisque with a Tambourine" (1925-26), won't be there for the next few months. Right now they're in Maine, where "The William S. Paley Collection: A Taste for Modernism" is on view at the Portland Museum of Art. The show, which was first seen at San Francisco's de Young Museum and will be traveling to Quebec's Musée National des Beaux-Arts and the Crystal Bridges Museum of American Art, consists of 61 paintings, sculptures and works on paper drawn from the personal collection of the man who ran CBS from 1928 until a few years before his death in 1990.
Most people knew Bill Paley as a giant of radio and TV, but in the rarefied world of art he was also universally known as a passionate advocate of European modernism. He left his collection to MoMA, which put it on display in 1992 and has now sent it on tour. In addition to six works by Matisse and eight by Picasso, "A Taste for Modernism" contains major pieces by Bonnard, Braque, Cézanne, Degas, Gauguin, Gris, Manet, Miró and Renoir–a lineup that is spectacular by any standard.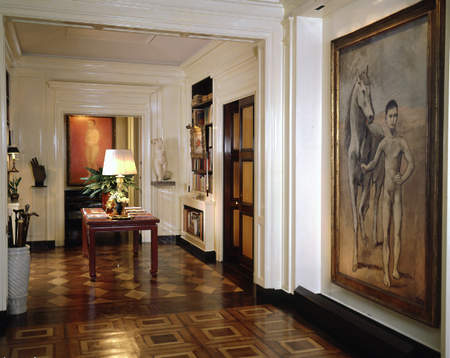 Part of what makes his collection so fascinating is that it really was his collection, not an exercise in corporate window-dressing owned by an investment-conscious CEO who leaves the chore of picking his paintings to a professional consultant. No sooner did Paley discover modern art in the '30s than he decided that he wanted "to surround myself with this kind of painting," and that was what he did. Part of his collection was hung on the walls of his Fifth Avenue apartment and part of it in his office at CBS, where visitors were invariably stunned to see top-tier masterpieces by Picasso, Giacometti and Toulouse-Lautrec.
The only thing missing from the show and its excellent catalogue is a discussion of how Paley's private life as an art collector intersected with his public life as a broadcasting pioneer. Almost a quarter-century after his death, it's easy to forget that he was a businessman first and foremost, the son of a cigar manufacturer who got interested in radio because he thought it would be a good way to sell his father's product. And while he contrived to turn himself into a cultivated gentleman, he made his own money from pop culture, some of it wonderful (it was Paley who first put Bing Crosby and Duke Ellington on network radio) and much of it brainless….
* * *
Read the whole thing here.