I just made a quick reviewing trip to Chicago, and in today's Wall Street Journal I report favorably on the two shows that I saw there, Alan Ayckbourn's Woman in Mind and the original version of Pal Joey. Here's an excerpt.
* * *
America's regional theaters are catching up with Alan Ayckbourn, and it's not hard to see why. Yes, virtually all of his 77 plays are uproariously funny comedies–but most of them are also deeply melancholy, at times joltingly so. Do an Ayckbourn and you get crowd-pleasing laughs and bonus points for seriousness. It makes good sense, then, that Eclipse Theatre Company, which specializes in three-show seasons devoted to the work of a single playwright, should be giving him the deluxe treatment this year, and that the first show of the season, "Woman in Mind," is one of the many plays by Mr. Ayckbourn in which comedy and tragedy are so tightly coiled that you can't pull them apart.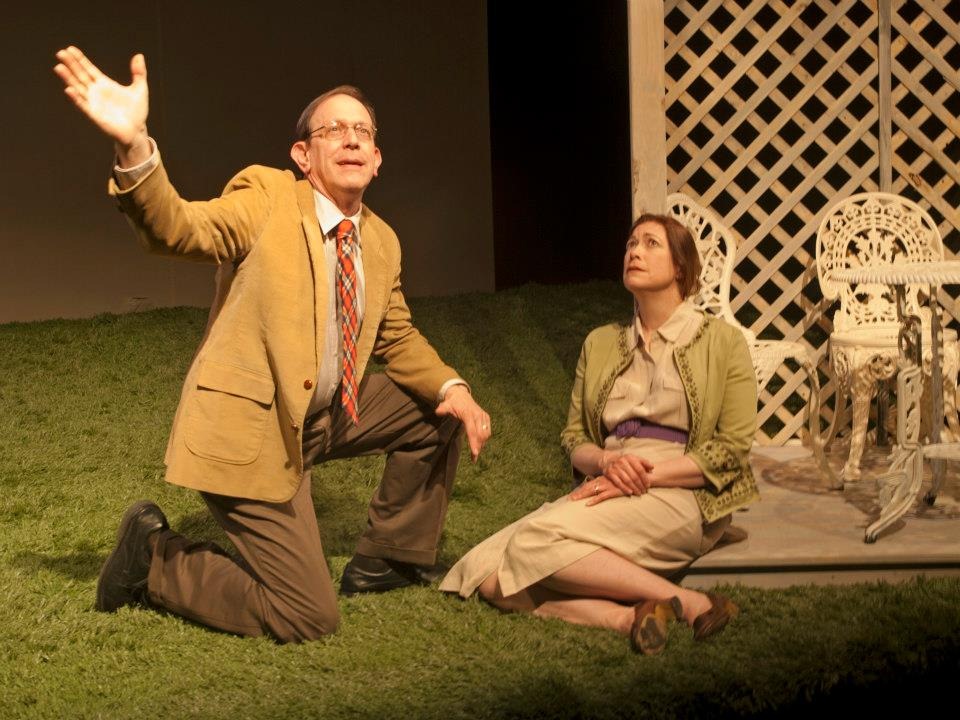 As the lights goes up, you see a middle-aged woman (Sally Eames) being treated by a mild-mannered doctor (Larry Baldacci) who is speaking to her not in English but in gibberish ("Pie squeaking jinglish cow"), making it impossible for her to understand what he's saying. Susan, we learn, just received an accidental blow to the head that has left her temporarily disoriented. Soon, though, she snaps back into focus, and the members of her cheerful, loving family, who appear to have stepped out of a tennis-anyone garden-party comedy, arrive on the scene and start fawning over her. If you didn't know any better, you might well suspect that you were in for a boringly conventional evening. But Mr. Ayckbourn likes nothing better than to deal from the bottom of the deck, and little is as it seems in "Woman in Mind," least of all Susan's goody-goody husband, daughter and son-in-law-to-be….
What follows is a hard-edged comedy that is simultaneously funny and horrific. It is also extraordinarily well performed, especially by Ms. Eames, who plays her part not as a tour de force of comic ingenuity but as a stingingly true-to-life study of a woman who can no longer bear the pain of her disappointments….
"Pal Joey" is on of the all-time great Broadway musicals, a portrait of life on the bottom rungs of show biz in which Richard Rodgers and Lorenz Hart teamed up to immensely potent effect with John O'Hara ("Appointment in Samarra"), who wrote the book. Yet it's rarely seen nowadays, and the Roundabout Theatre Company's 2008 Broadway revival was a monstrosity in which Richard Greenberg rewrote O'Hara's no-nonsense book to coy and campy effect. Now Chicago's Porchlight Music Theatre has given the original 1940 version a lively small-scale revival which proves that the creators of "Pal Joey" knew exactly what they were doing….
* * *
Read the whole thing here.