In today's Wall Street Journal I review an important revival in Orlando, Florida, Mad Cow Theatre's production of Laughter on the 23rd Floor. Here's an excerpt.
* * *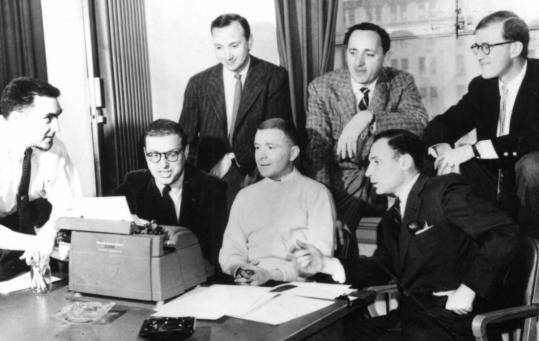 Long before Neil Simon was America's hottest playwright, he was the youngest writer on the staff of NBC's "Your Show of Shows." Still fondly remembered by octogenarian connoisseurs of TV comedy, "Your Show of Shows," which aired from 1950 to 1954, was a weekly series starring Sid Caesar and Imogene Coca that featured some of the best comic sketches ever to grace the small screen. The movie "My Favorite Year" was inspired by "Your Show of Shows," and in 1993 Mr. Simon turned his own memories of working on the show into "Laughter on the 23rd Floor," a very thinly disguised roman à clef about the writers of a variety series called "The Max Prince Show."
Mr. Simon's career was in terminal decline by then, and "Laughter on the 23rd Floor" ran for just nine months on Broadway. But TACT/The Actors Company Theatre's 2012 Off-Broadway revival of "Lost in Yonkers" was so noteworthy that I've been seeking out regional productions of Mr. Simon's other plays to see how they hold up. That's what brought me to Orlando's Mad Cow Theatre, which mounted an impressive "Rosencrantz and Guildenstern Are Dead" in 2010 and is now doing "Laughter on the 23rd Floor." While Mr. Simon is no Tom Stoppard, Mad Cow's "Laughter on the 23rd Floor" is pulverizingly funny. Not only does the play work, but this production, directed by David Russell, is a case study in how to stage punch-line humor. It doesn't just make you laugh–it rips the laughs out of you.
"Laughter on the 23rd Floor" doesn't have much of a plot: NBC wants Max Prince (Philip Nolen) to dumb down his program in order to satisfy the small-town rubes, and he responds by declaring war on the network. While that really did happen to "Your Show of Shows," it feels like a contrivance, an excuse for comedy. Fortunately, the real point of "Laughter on the 23rd Floor" is not Max's relationship with the network but his relationship with his writers, who have no illusions about their half-crazy boss. As one of them explains, "Max gets in his limo every night after work, takes two tranquilizers the size of hand grenades and washes it down with a ladle full of scotch." That's a recipe for trouble, and for lunatic slapstick.
The excellence of this revival lies in the kill-or-be-killed ferocity with which the actors tear into the script, taking their cue from this exchange between Val (Tim Williams), the head writer, and Kenny (David Almeida), the show's resident egghead: "A little aggression is good for writers. All humor is based on hostility, am I right, Kenny?" "Absolutely. That's why World War II was so funny. Schmuck." Everybody in the cast, especially Mr. Williams, throws their punches savagely hard, knowing that the Jewish humor in which Max's writers specialize is rooted in anger–and honesty….
* * *
Read the whole thing here.
Sid Caesar and Imogene Coca in "The Recital," a sketch from Your Show of Shows: