My "Sightings" column in today's Wall Street Journal, like my drama column, is occasioned by the new Broadway revival of Death of a Salesman. Here's an excerpt.
* * *
George Balanchine, the greatest choreographer of the 20th century, believed that all ballets, even his, were like butterflies: "A breath, a memory, then gone." Twenty-nine years after his death, Balanchine's ballets continue to be performed throughout the world, but it's also true that the way in which they are danced today is not the way in which they were danced when Balanchine himself was around to rehearse them. The steps may be the same, but the nuances are different–sometimes joltingly so…
What is true of ballet is no less true of the other lively arts. Change is built into their natures. You watch a performance and then…it's gone. All that work, all that passion, all that dedication, and when it's over, it's over, leaving nothing but memories–and, if you're lucky, a recording that can serve as a souvenir, however imperfect, of the experience.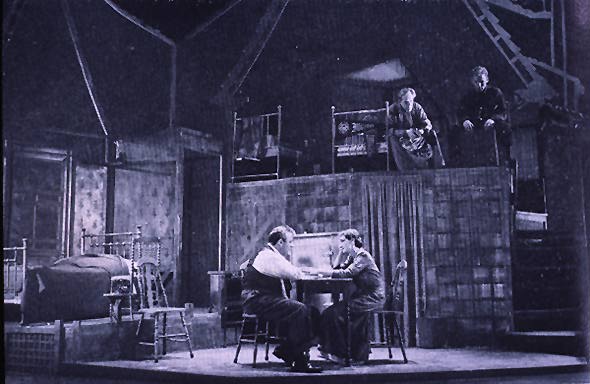 To be sure, great theatrical performances of the past leave behind a different kind of souvenir, which is their décor. Mike Nichols' production of Arthur Miller's "Death of a Salesman," which opened on Broadway this week, is being performed on a reproduction of the set that was created by Jo Mielziner, America's most admired and innovative theatrical set designer, for the play's original 1949 production, and it also makes use of the incidental music composed by Alex North for the same production. Mr. Nichols, who saw "Death of a Salesman" performed on Broadway when he was 17 years old, never forgot the impression made on him by Mielziner's skeletal set and North's fragile, wistful score, and so he decided to incorporate them into his own staging 63 years later….
Such exhumations are not unprecedented. The New York City Ballet still dances Balanchine's "Prodigal Son" in front of faithful reproductions of the backdrops that were painted by the French artist Georges Rouault for the 1929 Ballets Russes premiere….
Even so, it is rare for anyone to try to "revive" any aspect of a historically significant theatrical performance, even one as durable as its décor….
* * *
Read the whole thing here.