In today's Wall Street Journal I review the Irish Repertory Theatre's revival of Beyond the Horizon. Here's an excerpt.
* * *
Eugene O'Neill was the Theodore Dreiser of American theater–and there are plenty of people who won't take that as a compliment. Like the author of "Sister Carrie," he wrote of the sorrows of desperate men with a rough-hewn ineloquence that is not to all tastes. Though his gifts were that of the naturalist, he wrongly took himself to be a poet, and his attempts to use the techniques of Greek tragedy to comment on the American scene give much of his work an overwrought quality that many contemporary viewers find offputting. But when O'Neill got things right, he got them very right indeed, enough so that his best plays, for all their myriad defects of craft, remain compelling.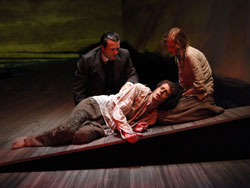 This is a good season to test the truth of that claim, since four of O'Neill's most important but least frequently produced plays are being presented by a quartet of the country's leading drama companies over the next few months. In Chicago, the Goodman Theatre is doing "The Iceman Cometh." In Washington, D.C., Arena Stage is putting on "Ah, Wilderness!" and the Shakespeare Theatre Company is mounting the near-forgotten "Strange Interlude." Here in New York, the Irish Repertory Theater, which has served O'Neill admirably throughout its 24-season history, has just opened a rare revival of "Beyond the Horizon," the 1918 tragedy that won him the first of his four Pulitzer Prizes.
I won't try to tell you that O'Neill's first full-length play is a masterpiece. In the proper hands, though, "Beyond the Horizon" can still be powerfully moving, and this production, well staged by Ciarán O'Reilly (who previously directed the Irish Rep's unforgettable 2009 revival of O'Neill's "The Emperor Jones") and performed with sympathy and restraint by an excellent cast, makes an unexpectedly strong case for a play that hasn't been seen in New York for close to a decade….
I've learned in recent years that many O'Neill plays that come across as overblown when performed on a proscenium stage also gain in tautness and concentration by being staged in an intimate performance space like the Irish Rep's 140-seat Off-Broadway theater. That's exactly what happens here. No one in Mr. O'Reilly's cast is tempted to exaggerate by the necessity of playing to a crowd, and all nine actors steer clear of the parallel temptation to lapse into stage-Irish charm. The tone they strike is modern, and it works….
* * *
Read the whole thing here.