In today's Wall Street Journal drama column I review Mike Nichols' Broadway revival of Arthur Miller's Death of a Salesman and an off-off-Broadway revival of George Bernard Shaw's Saint Joan. Both are memorable–equally so. Here's an excerpt.
* * *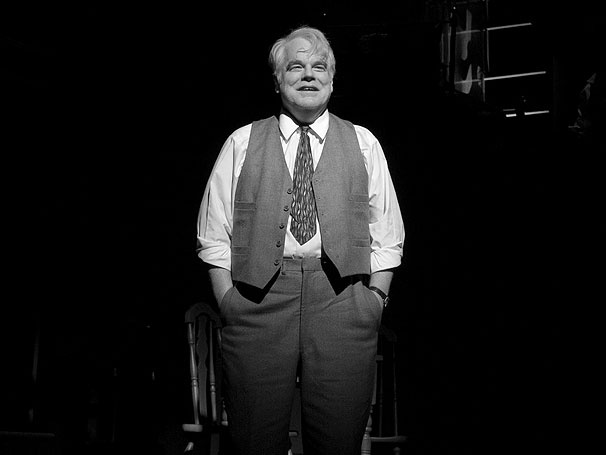 Willy Loman is back on Broadway–for the fifth time. Philip Seymour Hoffman, the star of Mike Nichols' revival of Arthur Miller's "Death of a Salesman," is following in the well-remembered footsteps of Lee J. Cobb, George C. Scott, Dustin Hoffman and Brian Dennehy, and it's a tribute to his talent that you won't feel inclined to compare him to any of his predecessors. When he first comes trudging onto the stage, carrying his weatherbeaten sample cases as though each one contains half the weight of the world, you feel at once that you're seeing not a performance but a person, stooped and stunned by the burden of failure….
The genius of Mr. Nichols' unostentatiously right staging of "Death of a Salesman" is that each part of it is in harmony with Mr. Hoffman's plain, blunt acting. Like his star–and the rest of his perfectly chosen cast–Mr. Nichols has disappeared into the play itself. The result is is a production that will be remembered by all who see it as the capstone of a career.
Linda Emond, who plays Willy's weary but loyal wife, isn't as famous as Mr. Hoffman, but she's just as good, maybe even better. Here as in Tony Kushner's "Intelligent Homosexual's Guide to Capitalism and Socialism with a Key to the Scriptures," in which she appeared last spring, everything that Ms. Emond does and says is starkly true to life. The only reason why she doesn't stand out more decisively is that much the same thing could be said of the other members of the cast, in particular Andrew Garfield as Biff Loman and Bill Camp as Charley, Willy's best friend. To praise one is to disserve the rest: All are as real as a cup of grocery-store coffee served in a chipped mug….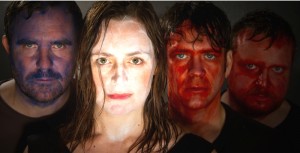 If, like the Lomans, you're strapped for cash, rest assured that you needn't pay Broadway prices to catch an unforgettable show. Bedlam's Off-Off-Broadway version of "Saint Joan," for instance, is the most exciting George Bernard Shaw revival I've ever seen, bar none.
Shaw's 1923 play, in which he turned the story of Joan of Arc into an incisive portrait of an idealistic tomboy who pits herself against a group of worldly, well-meaning clerics who end up doing the wrong thing for the right reasons, is rarely performed in America. Why? Because it runs for three and a half hours and calls for a pageant-sized cast of 24. Enter Eric Tucker, who has reconfigured the script for a woman (Andrus Nichols) and three men (Ted Lewis, Tom O'Keefe and Mr. Tucker himself) who switch from part to part à la "The 39 Steps." It may sound gimmicky, but Mr. Tucker's vest-pocket staging, mounted in a house so small that one scene is played in the lobby, fuses Shakespearean speed with Brechtian directness….
* * *
Read the whole thing here.