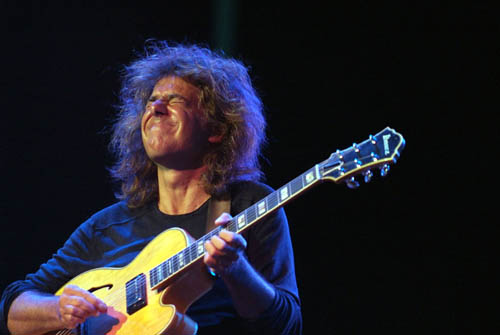 In addition to being a great artist, Pat Metheny is also a very nice person. If you work in the arts, you'll know that these two things don't always go hand in hand. Because we both grew up in Missouri, I know that Pat's warm smile and unselfconscious sweetness of character, like the spacious, wide-open sound of his music, are deeply rooted in the friendly place where he was born and raised. It is, sad to say, quite possible for an unfriendly person to make beautiful music, but I like to think that the existence of such sour folk is an insult to the natural order of things. If so, then Pat Metheny makes up for Stan Getz or Benny Goodman.
As I recently mentioned in this space, Pat came to Winter Park the other day to spend some time at Rollins College, my academic home away from home, and he and I made two joint appearances during his brief stay. On Wednesday Chuck Archard and I interviewed him in front of an audience, and on Thursday I moderated a question-and-answer session that followed a concert by Pat and Larry Grenadier, the bassist with whom he's spent the past few months barnstorming all over the world.
Pat flew directly from Japan to Florida on Tuesday. The mere fact that he managed to show up for Wednesday's session was thus more than a little bit astonishing. To say that he was exhausted is an understatement–his eyes were completely bloodshot–and I wouldn't have been at all surprised if he'd cut the evening short. Instead he let it run well into overtime, taking innumerable questions from the audience and answering them with the unfailingly courteous aplomb for which he is legendary among journalists.
I doubt you'll be entirely surprised to learn that not all non-verbal artists are at home in the world of words. I've written profiles of one or two well-known musicians who simply couldn't talk at all, thus forcing me to jump through hoops in order to create the illusion that they had something to say. Fortunately, Pat talks as well as he plays, and "interviewing" him is simply a matter of asking an occasional leading question, then scurrying out of the way. Everything he said on Wednesday was quotable, so much so that I'm planning to transform our chat into one of the Saturday Wall Street Journal's "cultural conversations" at some point in the next month or two. I guarantee that it'll be worth reading, and I can assure you that I won't deserve the least bit of credit for its readability.

Midway through the evening, Pat praised my Louis Armstrong biography in a way that made me blush. I knew that he'd liked Pops, but to hear him say so in public was…well, let's just say that I'll treasure the memory as long as I live. As if that weren't enough of a thrill for one evening, Larry Coryell, Pat's illustrious predecessor in the legendary Gary Burton Quartet, happened to be in the audience on Wednesday. I couldn't believe my eyes when he raised his hand to ask Pat a question about harmony. It was as if William Faulkner were quizzing Flannery O'Connor.
Thursday's performance and post-concert colloquy were, if anything, even more exciting, and Larry turned out to be every bit as articulate as Pat. Mrs. T, who'd never heard Pat other than on record, was transported. Midway through "Change of Heart," she leaned over to me and said, "They're not here, are they? They're in the music." So they were–and so were we.
* * *
Gary Burton, Pat Metheny, Steve Swallow, and Antonio Sanchez play Metheny's "B & G (Midwestern Night's Dream)":