In today's Wall Street Journal "Sightings" column, I write about Wolcott Gibbs' career as a drama critic. The occasion is the publication of Backward Ran Sentences, the first collection of Gibbs' work to appear since his death in 1958. Here's an excerpt.
* * *
Sixty-one years ago last September, Wolcott Gibbs, the drama critic of the New Yorker, did something that by all rights should have earned him a place in the annals of chutzpah. He wrote a play–and it was a hit.
Gibbs' "Season in the Sun," a fluffy comedy that ran for 367 performances, is the last non-musical play by an American drama critic to have opened on Broadway. Part of what made its success so surprising is that Gibbs, who covered theater from 1933 until his death in 1958, was one of the cattiest critics ever to sit on a Broadway aisle. Among other things, he suggested that the stars of a flop called "Anybody Home" "ought to be arrested for disturbing the peace." The fact that he then had the nerve to write a play of his own inspired Life to run a story called "A Critic Awaits His Critics" whose anonymous author reported that "a highly expectant swarm of first-nighters, whiffing blood like spectators at a Roman circus, were on hand to watch Gibbs come to grief or glory."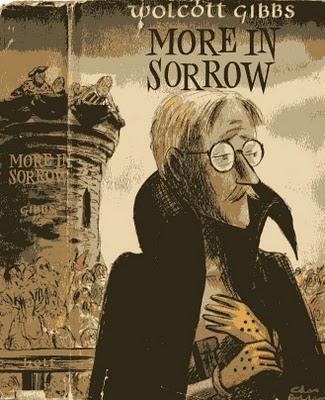 Though "Season in the Sun," like most Broadway comedies, has failed to hold the stage and is now forgotten, Gibbs' literary quiver was full of other, sharper arrows. A newly published anthology called "Backward Ran Sentences: The Best of Wolcott Gibbs from the New Yorker" (Bloomsbury) reveals him to have been formidably talented at magazine writing of all kinds, and in addition he was one of the New Yorker's most admired editors. It was Gibbs who penned one of the wisest sentences ever written about an editor's job: "Try to preserve an author's style if he is an author and has a style." But he was also a misanthropic alcoholic who believed drama criticism to be "a silly occupation for a grown man," and it was not uncommon for him to dull the edge of his self-loathing by drinking heavily before a show. Indeed, Gibbs came to the opening night of Arthur Miller's "The Crucible" so drunk that he had to be carried to his seat….
Perhaps not surprisingly, Gibbs' review of "The Crucible" has been omitted from "Backward Ran Sentences," but Thomas Vinciguerra, the editor, has reprinted a good-sized chunk of his other writings about theater, and they make for interesting reading. Part of what makes them so interesting is Gibbs' point of view, which was that of an unintellectual but highly intelligent playgoer who knew what he liked and was amply endowed with horse sense….
"God, he's brilliant, he doesn't like anything!" said one of Gibbs' fans. What redeemed his venomous ferocity was the gusto with which he wrote about the shows he did like–and there were plenty of them–as well as the judiciousness with which he weighed the merits of serious plays about which he had mixed feelings….
* * *
Read the whole thing here.