In today's Wall Street Journal I report on two shows, Chicago Shakespeare's revival of Follies and David Henry Hwang's Chinglish, which has just transferred to Broadway. In both cases, the news is good. Here's an excerpt.
* * *
When "Follies" first opened in 1971, it was the most expensive musical in the history of Broadway. Even now it's usually done on the grandest scale possible. The current Broadway revival of "Follies" may not have any falling chandeliers or flying helicopters, but it's being performed on the proscenium stage of the 1,615-seat Marquis Theatre, one of Broadway's largest houses, and it's more than big enough to fit.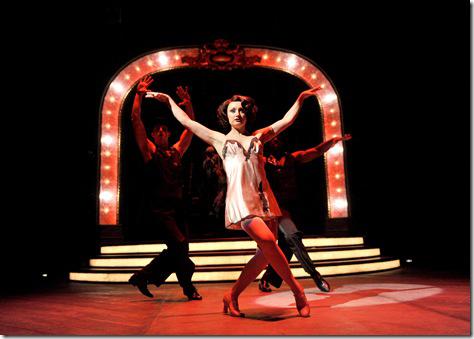 The problem with this approach to "Follies" is that it's not so much a traditional musical as a memory play, one in which two unhappily married middle-aged couples who are haunted by the ghosts of their younger selves revisit the past in the hope of coming to terms with the present. What makes it a musical is that Phyllis and Sally, the stars of "Follies," are retired Broadway gypsies. They've brought Buddy and Ben, their husbands, to a reunion of the chorus girls from the Weissmann Follies, who sing and dance one last time on the crumbling stage of the soon-to-be-demolished theater where they performed together decades ago. This ingenious premise opens the door to mounting "Follies" on a luxuriantly large scale, but it doesn't have to be done that way, and Chicago Shakespeare's darkly poignant new production, directed by Gary Griffin, shows how "Follies" can profit from being presented in a more intimate manner.
Mr. Griffin's version takes place in the company's 500-seat mainstage theater, an Elizabethan-style courtyard house whose deep thrust stage puts you mere feet away from the performers, and Kevin Depinet's reversed-perspective set creates the illusion that you're seeing the show from backstage, with the 12-piece orchestra seated in tiers on the far side of the proscenium. This allows Mr. Griffin and Alex Sanchez, the choreographer, to stage the show's musical numbers so that the Weissmann Girls seem to be performing for one another rather than for the audience. It's as if we're eavesdropping on their final reunion–and on the fast-fraying marriages around which the show is woven….
If, like me, you've dreamed of a "Follies" that eschews fancy frills and cuts straight to the heart of the matter, you don't have to wait any longer. It's here, and it's great….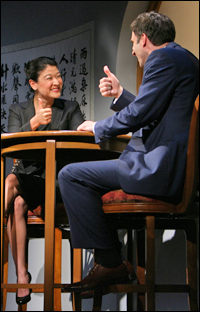 David Henry Hwang, the author of "M. Butterfly," is back on Broadway with "Chinglish," which originated at Chicago's Goodman Theatre. Mr. Hwang's new play is a fluffy bilingual romcom that makes clever use of projected supertitles. In the first act we meet Daniel (Gary Wilmes), an Ohio businessman who comes to China hoping to make a profitable deal, blunders into a thicket of cultural confusion and falls hard for Xi Yan (Jennifer Lim), a married government official who is looking for something more than a fling but less than a divorce. "Chinglish" is a one-joke show, the joke being that none of the Chinese characters, the translators very much included, can speak English well enough to make themselves fully understood to Daniel ("I appreciate the frank American style" becomes "He enjoys your rudeness"). The second act is deeper in tone, enough so that you wish the first act had taken more chances. But Mr. Hwang wrings the most out of his one joke…
This is Ms. Lim's Broadway debut, and she's a knockout, tough, smart and sexy….
* * *
Read the whole thing here.