The New York theater season is now rolling, and The Wall Street Journal has given me an extra column this week so that I can hold forth at greater length on the Broadway revival of Terence Rattigan's Man and Boy. Here's an excerpt.
* * *
In England Terence Rattigan is a growth stock, a purveyor of immaculately crafted plays who was immensely popular in the '40s and '50s, went out of fashion in the '60s and is now popular once more. Not so in America, where the once-beloved author of "The Browning Version" and "The Winslow Boy" remains largely unknown to under-50 theatergoers. It's been at least a decade since a Rattigan play received a high- or medium-profile professional production anywhere in this country, and the Roundabout Theatre Company's production of "Man and Boy," written in 1963, marks the first time that any of his plays has been seen on Broadway since 1998. This being the centenary of his birth, it makes sense that the Roundabout has revived one of his plays as a vehicle for Frank Langella, and it's no surprise whatsoever that Mr. Langella, one of our greatest stage actors, makes the most of the opportunity. The surprise is that "Man and Boy," which flopped hard in 1963 and sank without trace, turns out to be a tautly effective melodrama whose subject–the villainy of a financial "wizard" who is unmasked as a big-time swindler–is as timely as tomorrow's tweets….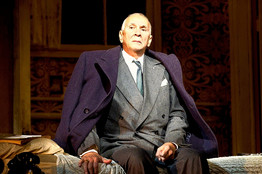 Mr. Langella, who was so fabulous in "Frost/Nixon," is a crook of a different color in "Man and Boy," courtly and exquisitely well mannered, a man whose whole life has been an act and who is determined to keep it up all the way to the final curtain. Yes, his performance is stagey, but deliberately so, and by playing the first half of "Man and Boy" in the silken tones of high comedy, he sets the audience up for the crash that everyone knows is just around the corner.
The trouble with actors like Mr. Langella is that they have a way of washing their colleagues off the stage, and that's what happens here. Adam Driver and Virginia Kull, who plays his flapperish girlfriend, seem all but weightless by comparison. It doesn't help that Maria Aitken, the director, seems to have nudged her cast in the direction of broad-brush caricature. Mr. Langella is supposed to be stagey–that's the point–but his regal carriage would make better theatrical sense were it framed by more conventionally realistic supporting performances….
Rattigan wrote stronger plays than "Man and Boy," "The Deep Blue Sea" and "Separate Tables" in particular, and he would have been even better served had the Roundabout revived one of them instead. Nor does this production, save for Mr. Langella's ennobling presence and Ms. Aitken's shrewd cuts, make the best possible case for "Man and Boy." But it's still what the Brits call a rattling good show…
* * *
Read the whole thing here.