Next Tuesday New York City Opera announces its 2011-12 season. In today's Wall Street Journal "Sightings" column I use the occasion to comment on the company's plight. Here's an excerpt.
* * *
The opera company that made stars out of Beverly Sills and Placido Domingo is now, as the world knows, on the brink of extinction. New York City Opera, long a fixture at Lincoln Center, has said that it can no longer afford to perform at America's largest performing-arts complex. Instead, George Steel, NYCO's general manager and artistic director, wants to present a cut-down season (five staged operas and several concert performances) at various locations in Manhattan and Brooklyn.
Members of City Opera's chorus and orchestra responded by holding a demonstration in Lincoln Center Plaza last Thursday. They believe that leaving Lincoln Center would be the coup de grâce for a company that is already in desperate financial straits. According to Alan Gordon, the national executive director of the American Guild of Musical Artists, one of the unions that represent NYCO's employees, Mr. Steel's plan is a "formula for continued failure…In that form, City Opera doesn't deserve to exist, and if [Mr. Steel] can't run City Opera as the people's opera, then someone who can should take over."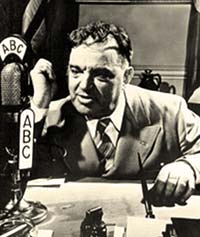 Unfortunately, Mr. Gordon's statement amounts to little more than a plea for a manager-messiah with a magic wand. It does, however, contain one phrase worthy of closer consideration. It was Fiorello LaGuardia, the New York mayor who played a key role in the creation of NYCO, who dubbed the company "the people's opera" when it was founded in 1943. That was more than just a slogan: It was what businessmen have since learned to call a "mission statement." According to Mayor LaGuardia, NYCO existed to perform popular operas at popular prices. In later years it moved away from that goal, but the slogan stuck–and rightly so. No opera company has ever formulated a clearer statement of its institutional mission….
What now? Is there a sufficiently large audience for new and unfamiliar operas to keep NYCO afloat? Should the company instead turn back the clock and stick to "Carmen" and "La Bohème"? Or is there yet another road to solvency for City Opera? I don't have an answer, but I do know this: Whether it leaves Lincoln Center or stays put, New York City Opera must redefine its institutional mission in a way that makes sense to the public.
That's not a simple matter of coming up with a catchy slogan. Good mission statements grow naturally out of sound strategic thinking. Peter Drucker, the great management consultant, said that a mission statement should be "short and sharply focused. It should fit on a T-shirt. The mission says why you do what you do, not the means by which you do it….A mission cannot be impersonal; it has to have deep meaning, be something you believe in–something you know is right." That's what made "The People's Opera" so effective: It summed up in three crystal-clear words a mission that made sense.
Nearly seven decades later, NYCO is in urgent need of the same strategic clarity….
* * *
Read the whole thing here.