In the second of two reports from Wisconsin's American Players Theatre, I review a major revival of Somerset Maugham's rarely seen The Circle in this morning's Wall Street Journal. Here's an excerpt.
* * *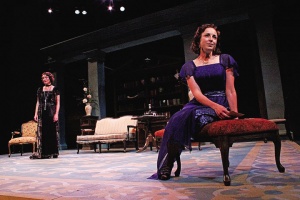 Long before he became one of the world's most popular novelists, Somerset Maugham was one of England's most successful playwrights. Four of his new plays actually ran simultaneously in London's West End in 1908, an achievement that makes Neil Simon look like a piker. But Maugham's brand of high social comedy had fallen from grace long before his death in 1965. It's been 21 years since any of his plays was successfully mounted on Broadway, and that one, "The Circle," presumably owed its success to the presence in the cast of Rex Harrison. While Maugham revivals are not unknown in this country, one almost always has to get out of New York to see them. So I hastened to Wisconsin's American Players Theatre, one of America's top classical companies, to find out how well "The Circle," which was first performed in London in 1921, has held up, and the answer–to my surprise–is that it is not merely viable but brilliant.
Most of Maugham's other plays, to be sure, are period pieces that merit the dusty obscurity into which they long ago fell, but "The Circle" is different. Instead of the not-quite-Wilde-enough epigrams of "The Constant Wife," we get a drawing room full of well-dressed but plain-spoken characters who might have stepped out of one of Maugham's own short stories, plus a plot so soundly made that you'll be engrossed as soon as the wheels start turning.
Lady Kitty (Tracy Michelle Arnold), the fallen woman at the center of "The Circle," walked out on Clive (Brian Mani), her husband, 30 years ago and ran off to Italy with Lord Porteous (James Ridge), Clive's best friend. Now Kitty and her aging consort have returned to England for the first time to pay a call on Arnold (Paul Hurley), her son, who was five years old when she bolted and is now a promising but priggish young politician who recoils at the thought of further scandal. Little does Arnold know that Elizabeth (Susan Shunk), his wife, has fallen for another man and is thinking of doing as Lady Kitty did…
James Bohnen, the departing artistic director of Chicago's Remy Bumppo Theatre Company, a troupe whose work I greatly admire, has caught the tone of "The Circle" with perfect exactitude, and his cast, which consists for the most part of old APT hands, is with him all the way. Ms. Shunk, who is so fine as Birdie in this season' revival of Lillian Hellman's "Another Part of the Forest," is, if anything, even more appealing as Elizabeth. At first her naïvete seems a bit much–you want to kick some sense into her–but before long you'll find yourself hoping against hope that she'll refuse to settle for the respectable life of a politician's wife….
* * *
Read the whole thing here.