In today's Wall Street Journal I review two new Broadway shows that are already drawing large audiences, Jude Law's Hamlet and the Manhattan Theatre Club's revival of The Royal Family. I had sharply mixed feelings about both shows. Here's an excerpt.
* * *
Few Broadway producers would dream of putting cash into a homegrown Shakespeare staging: They'd rather buy British, and they won't even do that without a Hollywood-issued flop-insurance policy.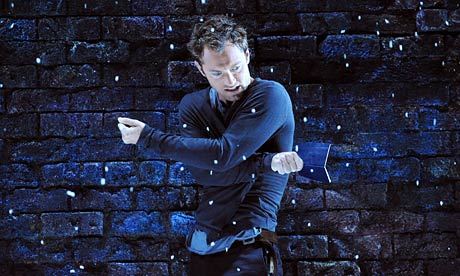 So what are the backers of Mr. Law's "Hamlet" getting for their money? A perfectly respectable, perfectly predictable modern-dress version whose been-there-seen-this minimalist décor, created by Christopher Oram, is the theatrical equivalent of a little black dress: Everybody has one and they all look alike. The whole cast, in fact, is dressed in black (except for Ophelia, who is black). Black leather jackets, black pea jackets, black shirts and ties…you get the idea. The set is an abstract castle whose sole ornament is a pair of proscenium-high doors that slide open and shut at frequent intervals, much like the elevators in a high-rise office building, and the mist-filled stage is illuminated by narrow shafts of chilly bluish-white light.
It would be inordinately difficult to make anything surprising happen in this enervatingly familiar space. Michael Grandage, who directed the Donmar Warehouse premiere of "Frost/Nixon" that came to Broadway two years ago, barely even tries….
Mr. Law, a well-trained actor with extensive stage experience, gives a performance that struck me as a polished first draft…
George S. Kaufman was the Neil Simon of his day, a commercial craftsman whose comedies used to be immensely popular but are now mostly forgotten, "The Man Who Came to Dinner" and "You Can't Take It With You" excepted. The Manhattan Theatre Club's revival of "The Royal Family," written in 1927 by Kaufman and Edna Ferber, the authoress of such blockbuster novels as "Show Boat" and "Giant," is only the third Kaufman revival to open on Broadway in the past quarter-century. Why are his plays seen so rarely? Partly because they call for big casts–it takes 16 actors to perform "The Royal Family"–but mostly because contemporary audiences suckled on TV expect stage comedies to move faster than they did in the '20s and '30s. The Manhattan Theatre Club's production of "The Royal Family" runs for two hours and 45 minutes, and by the time the third act (yes, there's a third act) got going, I felt like the lady sitting a couple of rows behind me who cried "My God, this is a long play!" louder than she realized….
* * *
Read the whole thing here.