In the summer I hit the drama-festival circuit, and I try to get from one town to the next in as uncomplicated and unhurried a way as I can contrive. Not only has experience taught me to travel light and never fly on show days–to do otherwise is asking for trouble–but I also have to give myself sufficient time to write, file, and edit my Wall Street Journal drama columns from the road.
The upcoming premiere of The Letter, however, means that I'll be cramming in more shows than usual between now and then, since I'm flying to Santa Fe on July 12 to attend the last two weeks of rehearsal and the first three performances of the opera. It isn't easy to get from Santa Fe to anywhere else, so I've decided not to try to see any out-of-town shows while I'm there. Instead, I'm stockpiling long-running festival performances that I can write about in July.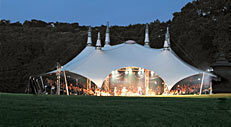 I've already seen the three Stratford Shakespeare Festival shows that I'll be reviewing in my July 24 column, and last week Mrs. T and I went to the Hudson Valley Shakespeare Festival to see Much Ado About Nothing and Pericles, about which I'll be writing on July 10. We go to Hudson Valley every summer–it's our favorite outdoor Shakespeare festival–and we have our travel routine down pat. We always stay at Storm King Lodge in Mountainville, a stone's throw away from Storm King Art Center, and we always dine al fresco each night at the Boscobel Restoration, the 1808 house on whose elegantly manicured lawn the Hudson Valley Festival pitches its tent.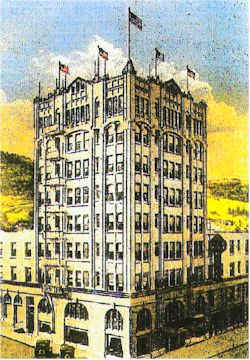 Two nights on the Hudson isn't nearly enough to suit me, but it was all the time I could spare this season. America is a big country, and it's never bigger than when you're going directly from the Hudson Valley Shakespeare Festival to the Oregon Shakespeare Festival with no stops in between. No playgoing stops, that is: on Thursday I ate a hearty breakfast in Mountainville, drove to the train station in Beacon, took a commuter train from there to Grand Central Station, caught a cab from there to LaGuardia Airport, flew to Denver, spent two hours waiting for a thunderstorm to blow over, flew to Oregon, picked up a rental car, drove to the Ashland Springs Hotel, and went straight to bed, having spent a grand total of eighteen hours getting from one coast to the other.
I fell hard for Ashland when I went there for the first time three years ago, and I haven't changed my mind. It's an immaculately kept little town whose business district seems to consist mainly of first-class restaurants, of which Amuse and Chateaulin remain my favorites. You can see all the plays you want in between meals–the Oregon Shakespeare Festival performs in three different theaters–and you can walk just about everywhere without difficulty, though you do need a car to get to Mount Ashland, the 7,533-foot-high peak to whose summit I hiked last Saturday morning.
Really. No fooling.
(To be continued)