The Broadway season is over at last, and in today's Wall Street Journal I review the last two shows to open in 2008-09, Waiting for Godot and 9 to 5: The Musical. One is better than the other. Guess which? Here's an excerpt.
* * *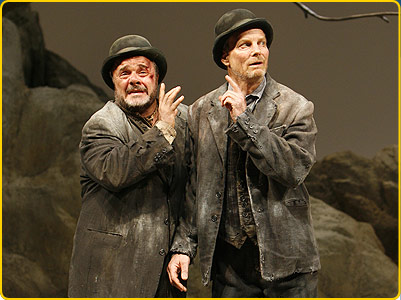 It says much about modernity that the most admired play of the 20th century should be a baggy-pants comedy about the meaninglessness of life. "Waiting for Godot," Samuel Beckett's dark parable of two bowler-hatted tramps who await a long-deferred rendezvous with a man who may or may not be God, is one of those works of art that is not diminished but enhanced by familiarity. The more you see it, the better it looks, though I doubt that it's ever looked much better than it does on Broadway right now. The Roundabout Theatre Company's revival, which stars Nathan Lane, Bill Irwin, John Goodman and John Glover, is beautifully simple and straightforward–and very, very funny, as "Godot" should be. Every aspect of the production, directed by Anthony Page, serves the script faithfully, and none of the performances gets between you and what Beckett wrote….
Not having been at the rehearsals, I can't tell you what Mr. Page did to coax such magnificent performances out of his cast. I can only report that his staging, like David Cromer's Off-Broadway production of "Our Town," seems to show you the play itself, plain and true….
"9 to 5" is a Big Mac musical, a surprise-free entertainment machine based on a hit movie. Buy a ticket and you don't have to guess what you'll be getting: You already know, right down to the number of pickles on the sesame-seed bun that is Joe Mantello's ultra-efficient staging. From start to finish, it does what it's supposed to do–and no more….
The one good reason to see "9 to 5" is Allison Janney, who plays the role created in 1980 by Lily Tomlin. Not only is her comic acting mouth-puckeringly tart and her stage presence strong and sexy, but she can sing–not just well enough, either, but very well indeed. Might she be the next big musical-comedy star? I wouldn't be at all surprised….
* * *
Read the whole thing here.